On December 16th, 2021, Super Typhoon Rai (locally known as Odette) made landfall in the Philippines. It was was one of the worst typhoons the world saw last year and the most severe storm to hit the Philippines in 2021.
The equivalent of a category 5 hurricane, Typhoon Rai caused vast destruction and destroyed over 800,000 homes. It affected almost 7 million people and 407 people lost their lives.
In the day before landfall, the typhoon rapidly strengthened from a Category 1 to a Category 5-equivalent storm. It made landfall in Siargo and travelled westwards across the Central Visayas, Eastern Visayas and Palawan.
Between December 16 and 17, it made landfall nine times across seven provinces in The Philippines.


When the typhoon hit, Almera (42 years old) was with her husband and eight children at their family home in Cebu.
They had been unaware that the storm would reach Cebu, meaning they weren't prepared for the devastating effect of the storm. This mean that their family home was even more severely damaged.
We were all together just before the typhoon hit – we were watching the weather and noticed the rain was getting heavier – it was painful when it fell on our skin, and we were falling around due to the strong winds. That's when we knew we had to evacuate.
Thankfully, Almera's family was able to seek refuge with her children taking shelter in their elder sister's house.
By the time they arrived, mango trees and coconut trees had already begun to fall, signalling the start of what would be days of ongoing destruction.
Receiving the support they needed
---
Thanks to our incredible supporters around the world, Almera and her family were one of the 7,000 families to receive ShelterBox aid in Phase 1 of our response.
They received a shelter kit containing tarpaulins, tools, and fixings, as well as other household items. These items helped Almera secure her home, helping her feel more protected from the weather and begin the journey of recovery.
Now we have the tarpaulin, we no longer get wet when it rains.
Your ongoing support ensures ShelterBox is ready when the unthinkable happens. Your donations provide vital stock in our warehouses, which means we have the ability to respond as quickly as possible to provide shelter aid to the families who need it most.
We have now been able to support 20,765 households over Phase 1 and 2 of our response!!
Thank you for sharing our vision of a world where no one is left without shelter after disaster.


Super Typhoon Rai
ShelterBox is responding following the devastating Super Typhoon Rai. Learn more about how we're helping families.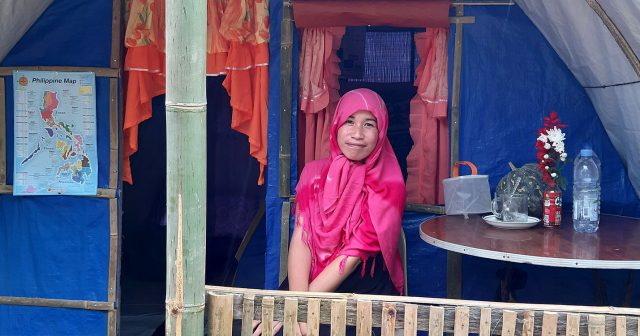 What we learned opening ShelterBox Operations Philippines
In 2017, ShelterBox established an in-country office in the Philippines to help with disaster responses in the most disaster-stricken country in the world. Learn more about what this experience has taught us.