ShelterBox is responding in the Philippines after Super Typhoon Rai (known locally as Typhoon Odette) caused widespread devastation after making landfall on December 16th, 2021. 
Typhoon Rai was the most severe storm to hit the country last year. With gusts of up to 240kmph, the storm was equivalent to a Category 5 hurricane.
More than half a million people are still without anywhere to live, and it's still raining – making recovery efforts even harder.
The extent of damage is still emerging as communication lines are restored, with the number of homes damaged increasing with every new report. At the moment, we know that more than 800,000 homes have been damaged or destroyed, with almost 7 million people affected, and 407 people have lost their lives.
We're working closely with local partners; the international response coordination teams; the Philippines Navy; and Rotary contacts to make sure we respond where the need is greatest. Check out the videos below for more information on how Rotarians supported our response.

Damaged communication lines and fuel shortages are making travel extremely challenging. But despite these challenges, we've helped more than 7,000 people so far, providing shelter kits, tarpaulins, and other essential items.
Phase 1 of our distributions in Cebu is complete. We're moving onto the Bohol region to support 13,000 households. We can't do it without your support. Please donate today to help families rebuild after Typhoon Rai. 
Your donation will provide shelter and other essential items for families affected by this terrible disaster. Any additional funds raised over what is needed will go towards our wider work, providing shelter to families who need it after disaster.
Super Typhoon Rai has caused devastation in areas with high levels of poverty.
3.8 million people who were in the direct path of the storm are already living below the poverty line.
In the day before landfall, Typhoon Rai rapidly strengthened from a Category 1 to a Category 5-equivalent storm. It made landfall in Siargo and travelled westwards across the Central Visayas, Eastern Visayas and Palawan.
Between 16-17 December, it made landfall nine times across seven provinces in The Philippines.

How will COVID-19 affect the response to Super Typhoon Rai?
COVID-19 can be  a deadly risk for vulnerable families who have lost their homes. The impact in evacuation centres and host communities could be devastating.
We know that emergency shelter can save lives by slowing the spread of COVID-19. That's why we need your support in emergencies like these.
Is Typhoon Rai linked to climate change?
Whilst tropical storms like Typhoon Rai are a natural part of our climate, the severity of a storm like this is likely to be linked to climate change.
Rising temperatures are causing storms to become much more intense and have a far more devastating impact.
The Philippines is used to powerful storms. It is hit by an average of 20 storms and typhoons a year.
When did Typhoon Rai make landfall?
Super Typhoon Rai made landfall in the Philippines on Thursday 16 December.
It hit the popular tourist island of Siargo with winds of 175kmph before travelling westwards across the Central Visayas, Eastern Visayas and Palawan.
How many people have been affected?
539,000 people have been displaced. 407 people have lost their lives and reports suggest over 800,000 homes have been damaged or destroyed. In total, about 7 million people have been affected.
Alice Jefferson, ShelterBox Head of Emergency Response said, 
"This deadly typhoon has left hundreds of thousands of people displaced just before Christmas and caused extensive damage to homes.  
"Large areas of the Philippines have been left decimated on a scale not seen in the country before and ShelterBox will be doing all it can to make sure people have shelter. 
"We'll be responding with emergency shelter that we have stored locally to help Filipinos, many who are still recovering from previous storms."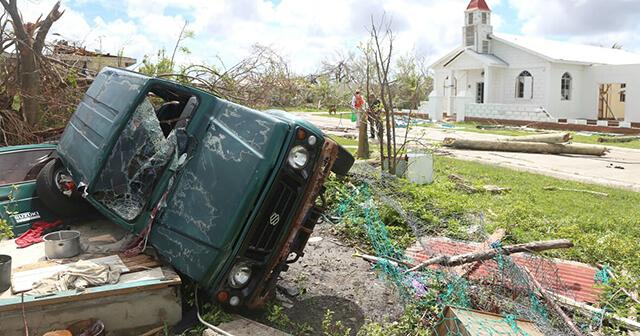 Disasters Explained: Hurricanes
Find out everything you need to know about the destructive power of hurricanes, cyclones, and typhoons.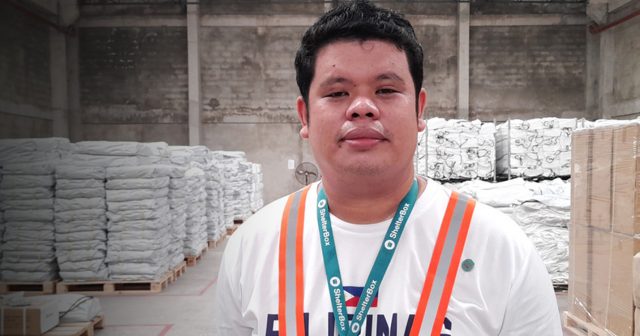 Interview with Domi from ShelterBox Operations Philippines
We spoke to Domi, the warehouse and logistics supervisor at the ShelterBox Operations Philippines office. Read on to hear about his journey with ShelterBox, what his job involves, and his message to ShelterBox supporters.