When Disaster Strikes, Every Second Counts
---
We can't predict disasters, but with your support, we can be ready to respond and provide displaced families with the life-saving aid they need right when they need it most.
When disaster strikes, families lose their homes, possessions and livelihoods.
This year, we have helped hundreds of thousands of people recover after losing their homes to disasters. But our warehouses are now empty, and we need to restock them.
We urgently need support to prepare, respond and restock, so we can keep helping families who have lost everything. 
Please donate now to help save lives around the world.
Please note: To be as effective as possible we do not accept donations to specific disasters.
Please note: We are not able to accept Amex donations. We're sorry for any inconvenience.
If you're having trouble making a donation, please contact us at [email protected] or by calling 647-352-1930. Thank you!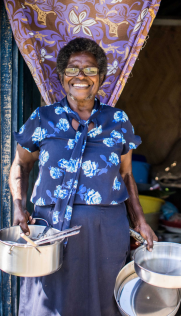 Behula and her family live on a small island on the Brahmaptura river in north-west Bangladesh. Families who live near of on the river know that monsoon rains will cause the river levels will rise, but the heavy rains in 2019 were much worse than expected.
After Behula's home collapsed during the flooding in 2019, Behula and her family were supported by ShelterBox and the Bangladesh Red Crescent. They received a shelter kit and other essential aid items, almost five months after the floods, Behula was still using the materials provided by ShelterBox.
Knowing they cannot move away from the river, Behula said she will continue to make her home stronger to be prepared for potential flooding in future years.