With your support, ShelterBox teams deliver the essentials people need to begin rebuilding their lives in the aftermath of a disaster.
Each disaster is different, and so is every community. We don't believe that one size fits all, so we make considered assessments to provide the exact support that gives people the hope and the power to transform their own lives.
ShelterBox supplies emergency shelter aid, along with household items that enable families to rebuild their homes and their lives.
We test and evaluate all of the aid we provide by talking to, and learning from, the families who use it. This fuels us to be innovative and to continue evolving.
Creating a home is a process that takes time and we support families to continue on that journey.
EMERGENCY SHELTER
---
FAMILY TENTS
When families can't start rebuilding their homes immediately, we supply large, sturdy tents that can withstand extreme weather conditions and temperatures.
Like us, our range of aid is adaptable. We don't just supply one type of tent, but a variety. From padded tents that can safely accommodate a stove, to medium-sized tents that fit in small spaces and ones that can last years if needed, we've got it covered. Learn more about our various tent options here.
No matter which option is used, ShelterBox tents are large enough for a whole family, and provide a safe and private place for families to recover from disaster.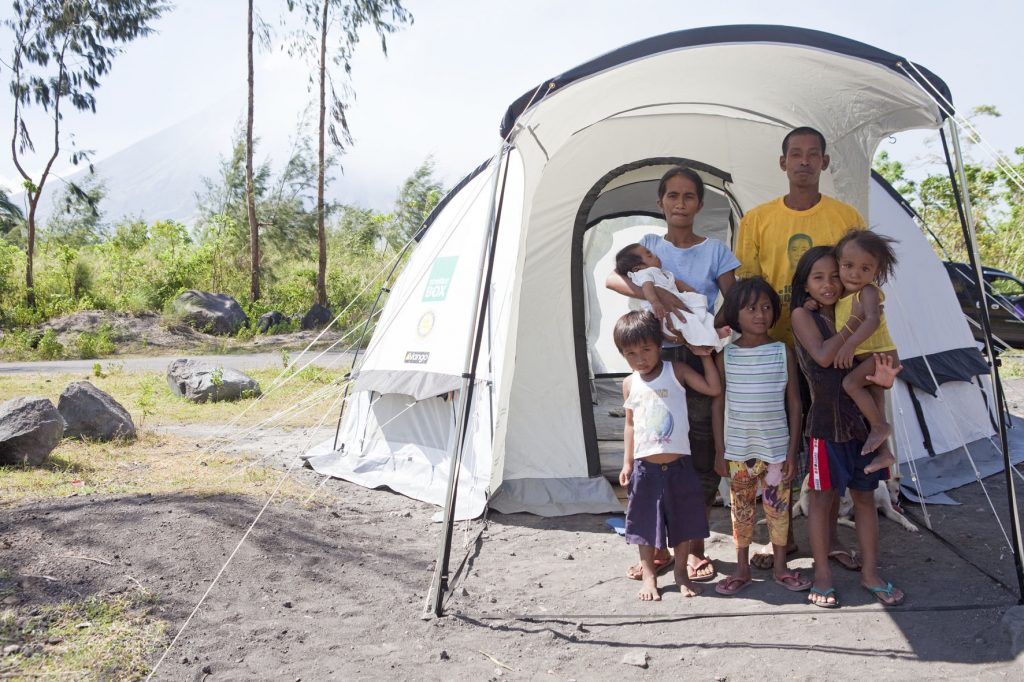 Our ShelterKits contain a selection of materials, including toolkits, ropes, fixings and heavy-duty tarpaulins, that can be used to make emergency shelters, repair damaged buildings and create the foundations for new homes.
We customize these kits to suit the location and the needs of each community. Sometimes they include corrugated iron to help make resilient roofing, locally sourced lumber, or even room dividers to help make a shelter, into a home – whatever it takes to help people recover from disaster.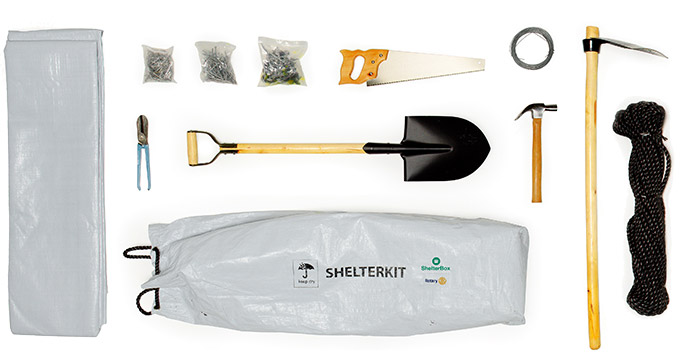 HOUSEHOLD SUPPORTS
---
SOLAR LIGHTS
The LuminAID solar lights we send can last up to 24 hours on just one charge on the lowest setting. They are lightweight and can float in water, making them easy to carry in any situation.
Because they are so safe, cheap, and easy to use, families use solar lights in different ways – for work, education, family activities, or simply moving around at night.
Solar lights not only illuminate dark and dangerous paths, but they enable families to cook meals and children to finish their homework when it gets dark. They help create safe environments where people can pick up their daily routine.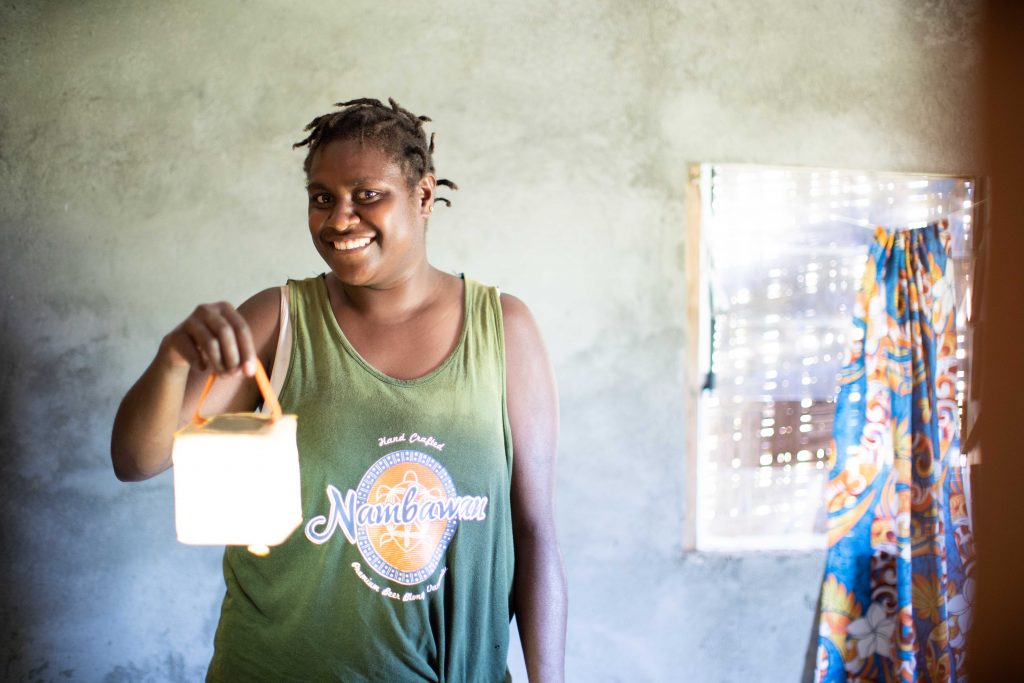 When disasters devastate the landscape and force families far from home, it can be hard to access safe, clean water. After floods and storms water sources are often contaminated. Exposure to contaminated water can cause stomach aches or illness, and can also lead to water-borne diseases like cholera
By providing families with water containers and purification equipment, safe drinking water becomes one less thing to worry about. Clean water kits include carrying jugs for fetching and storing water, and a water purification device that can provide more than 2 months of clean drinking water to families after disaster.
Read Mairamu's story to see how water filters change lives.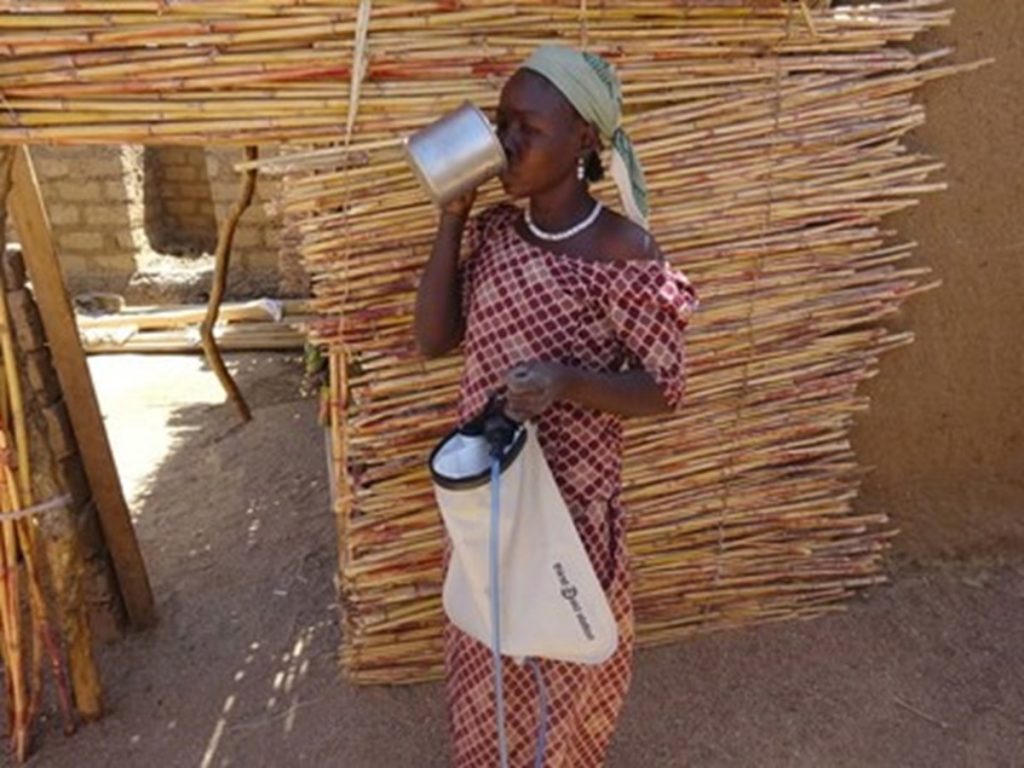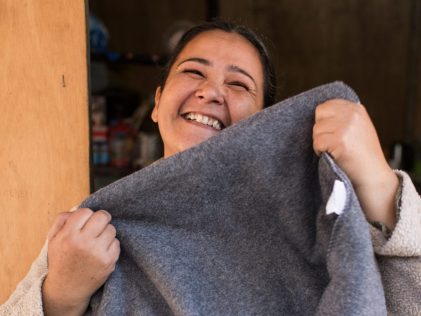 Every response is different, and often customized and locally sourced items are included in the aid package that families received. Here are some of the additional items families have received thanks to support like yours.
Where possible, these items are often locally sourced, ensuring that the most culturally relevant items are provided to families. Teams work directly with local organizations and community members to determine what items would be most affecting in supporting self-recovery for families.
Wash basins and soap
 Sleeping mats
 Corrugated Iron Sheets (for roofing)
Hats and scarves
Face masks
Woven bags
 Hand basin
Mattresses
Children's clothing
The way in which we deliver emergency shelter and support has changed and evolved over the past five years. It varies with every disaster and often doesn't involve the box anymore.
However, the box still represents our practical approach and commitment to our mission. It symbolizes the opportunity we have, together with our supporters, to the provide essential emergency shelter after disaster and transform lives.
Our full shelter packages include all of the items people need to recover after a disaster, and are customized based on the disaster and the location. We work with local communities to best understand the needs that they have to ensure people are getting the right type of aid. When available and of high quality, we procure local items to help people build locally-appropriate shelters while also boosting their economy.
We will continue to strive to provide the best aid possible to the people who need it, while working to reduce our costs and environmental impact.