When disaster strikes, ShelterBox Response Teams (SRTs) play a crucial role in helping vulnerable families recover.
Following a disaster or conflict, our Response Team Volunteers leave their own families to travel around the world and deliver shelter, tools and other essential items to the families who need them most.
The conditions can be very challenging. It can be physically and mentally demanding. Becoming a response team member is a huge responsibility, but it can also be incredibly rewarding.
Applications are now closed, but please keep an eye out for when the window opens again.

ShelterBox Response Team (SRT) members, undertake a crucial element of ShelterBox's work – ensuring that emergency shelter and other humanitarian aid is delivered to families who need it most.
We deploy to disasters under challenging conditions. SRTs experience mental, physical and environmental pressures as a result and should be prepared for this.
Team members are relied on to be excellent team workers; capable of making good decisions under pressure; able to develop and maintain good relationships with partners and community members; and able to work in locations with damaged/missing infrastructure, few facilities and communities experiencing severe trauma.
Becoming a response team member is a huge responsibility, but it can also be incredibly rewarding.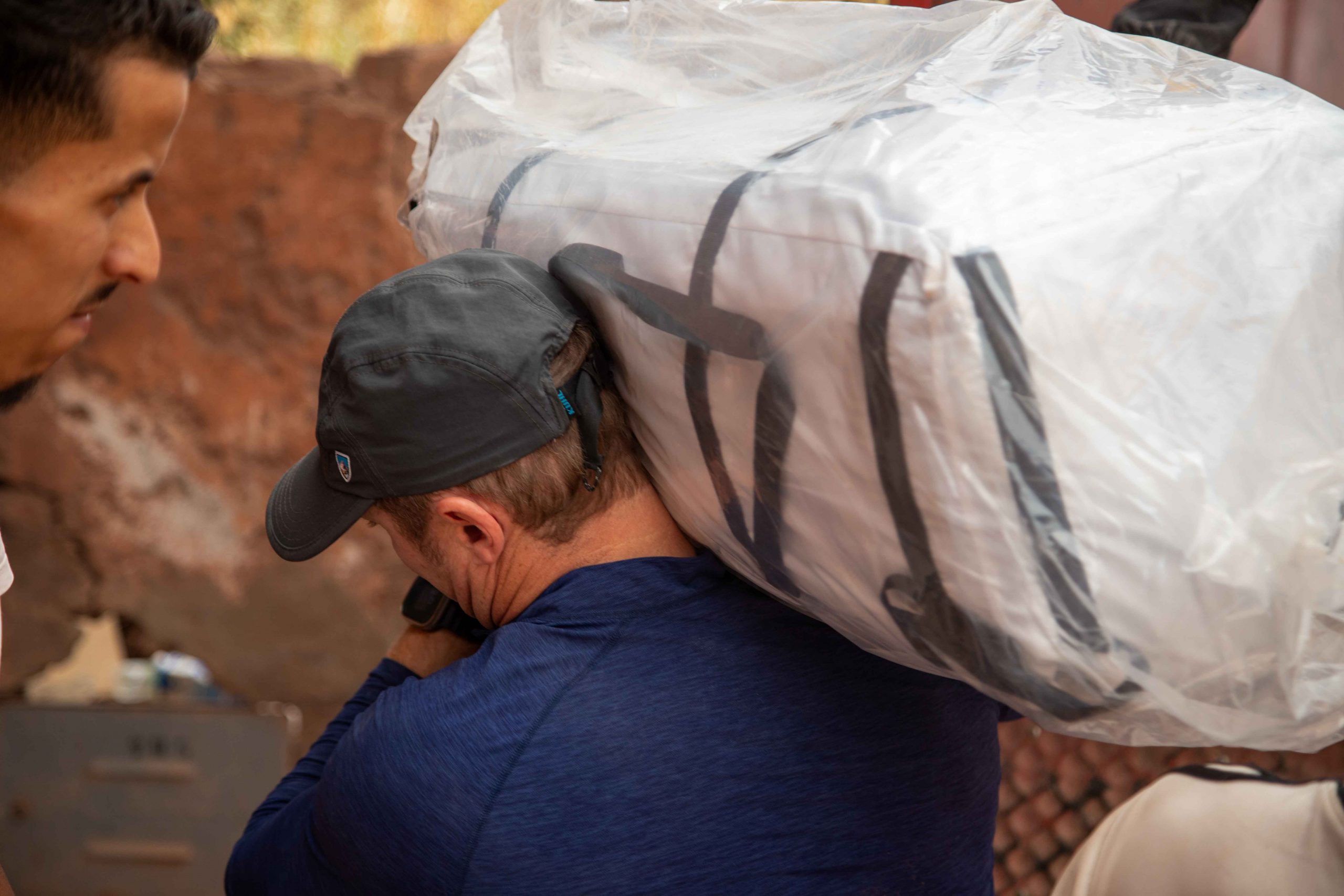 Our diverse group of volunteers come from a range of backgrounds and a variety of countries but what they have in common is their availability, their passion for what we do, their capacity to deliver a variety of tasks in potentially unfavorable conditions, and most importantly, the excellent way in which they approach and deal with their work.
Time Commitment:
For this role we look to recruit volunteers who foresee that they can commit long-term. Due to the needs of the organization and the cost to train our response teams, we hope that our volunteers are available to help ShelterBox for a period of five years.
Behavioral Competencies:
These are the headings under which we consider practical deployment suitability during the residential assessment.
Self-awareness
Communication
Working collaboratively
Achieving results
Acting in pressured and uncertain environments
Decision making and judgement
Vision and action
Knowledge and Experience
Essential:
Demonstrate international, cultural and political awareness in order to treat others with respect and work successfully.
Fluent in oral and written English.
Proven experience of delivering work on time, working with little supervision, and providing effective decision making under pressure and in complex environments.
Experience of working effectively as part of a team.
Experience of travel or work outside of Europe, North America, Australia and New Zealand.
Desirable:
Fluency in another language.
Experience in leading groups, meetings, volunteers.
Skills Needed
Essential
Able to swim 50m unaided and fully clothed.
Have strong information communication technology (ICT) skills; be familiar with Microsoft Office and comfortable learning modern communications technology, such as GPS, phone apps, smart phones and tablets.
Able to work with colleagues, the public and external partners at all levels.
Able to listen sensitively to others' points of view or experience and take a balanced view.
Able to speak publicly and present appropriately to varied audiences.
High degree of accuracy in written and numerical work as well as the ability to write reports and reconcile expenses.
Comfortable working with changing information and scenarios to make decisions and take responsibility.
Desirable
Knowledge of coaching and mentoring styles.
Understanding of the need for monitoring and evaluation activities.
Availability
This is essential. You must be available to complete all stages of the recruitment process and meet the in-role time requirements, too.
The selection process is comprised of six stages:
An online test, an application form, an online interview, a four-day residential selection course, independent pre-learning, and a nine-day residential pre-deployment training.
The full recruitment timetable can be found below. You must be available to complete all stages of the recruitment process when you apply.
If you cannot make a stage, your application will not be able to proceed and will not roll over to another year.
Recruitment Timetable:
You must be available to complete all stages of the recruitment process when you apply. If you cannot make a stage your application will not be able to proceed and will not roll over to another year.
After the close of each stage applicants will be informed whether or not they have successfully progressed to the next round.
Stage 1: Online test
Stage 2: Application form submission
Stage 3: Online interviews
Stage 4: 4-day residential assessment
* You must be available for one of the following (expenses not covered)
Stage 5: Online pre-learning (Approx. 100 hours over this period)
Stage 6: Pre-deployment residential training (all expenses are covered)
Once selected, SRTs are expected to fulfill two three-week deployments (at short notice) every year. Broad availability throughout the year in which to make a deployment (for example, the ability to deploy for any three weeks in a six to eight-week period) gives good flexibility.
Compulsory monthly training consists of a 1-hour webinar and knowledge check which can be completed any time in the month that it is set. Occasionally short residential courses may be offered.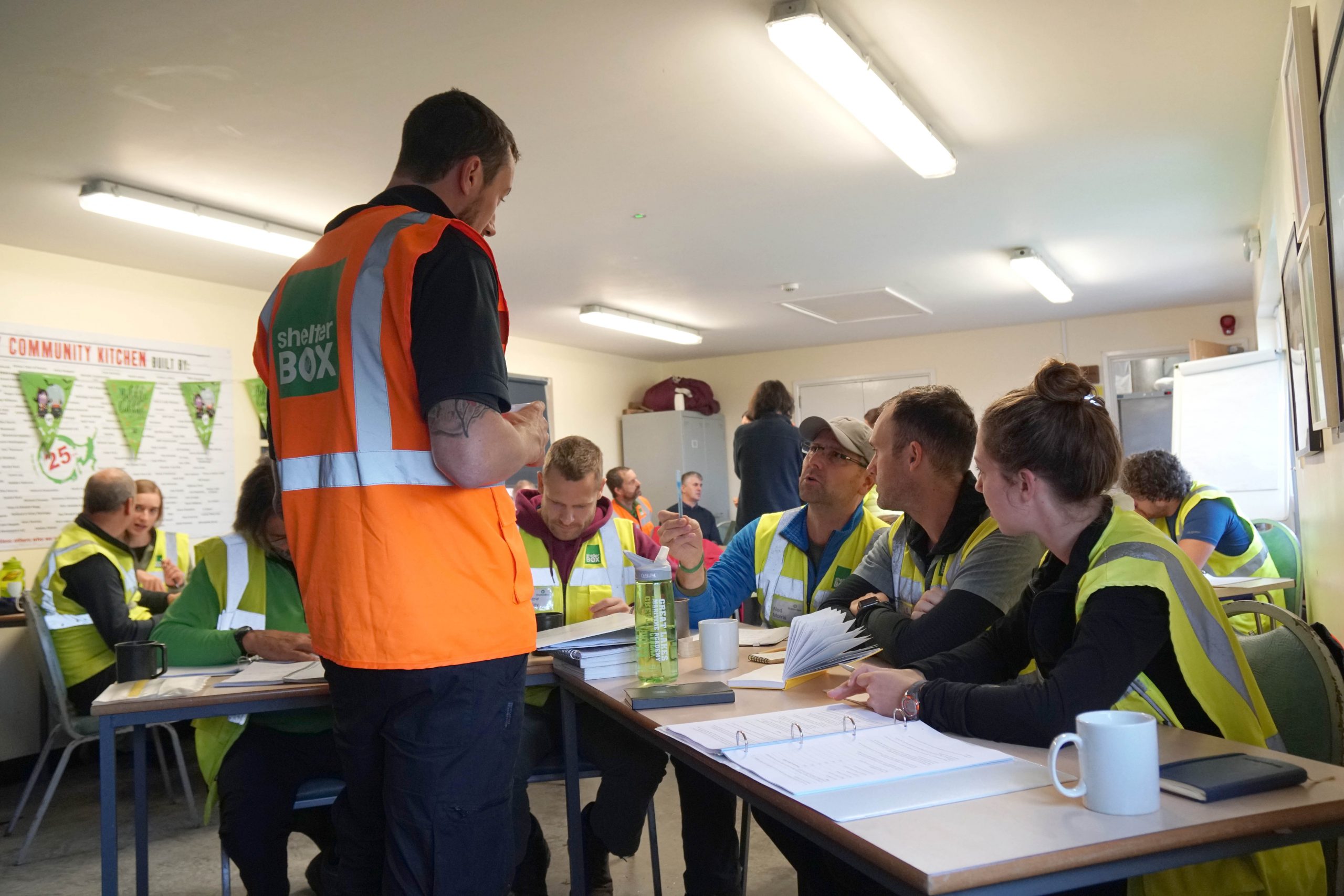 What is a ShelterBox deployment like?
Each deployment is unique, but Response Team members will likely undertake some or all of the following each time:
Play an active role in delivering your agreed actions as part of a wider team and longer-term response.
Understand, plan and act in accordance with the specific social, political, economic, security and humanitarian sector context.
Effectively and appropriately engage a range of key groups including individuals and communities affected by disaster, local service providers, other international non-governmental organizations, community-based organizations, local officials, government officials, and military personnel.
Establish and/or carry out temporary in-country administrative office functions.
Organize local logistics, including customs clearance, identifying appropriate consignees, onward travel for people and equipment, local storage. Undertake needs assessments using primary and secondary sources.
Undertake site assessments.
Plan ethical and safe distributions.
Deliver equipment demonstrations to beneficiaries and partners.
Negotiate access to land, people and resources.
Analyze and exercise good judgement in challenging situations in the absence of specific guidance.
Maintain focus on delivery of timely and appropriate results using available resources. Collect, record and report on monitoring information and feedback.
Collect, produce and submit content (images, stories and information) to support ShelterBox's donor and publicity accountability and communications.
Engage with the media by providing (agreed) local and international interviews.
Support deployment coordination in the field or from headquarters as required.
Adhere to ShelterBox procedures and protocols at all times.
Take part in post-deployment debriefs covering personal development and welfare.