Blog
---
Stronger Together: How we worked with partners to respond in Honduras after Hurricanes Eta and Iota
In the midst of a global pandemic, international humanitarian organizations faced huge challenges. Here at ShelterBox, partnership and collaboration have always been central to the way we work.
Over the past year, as we adapted to the challenges of coronavirus, these partnerships have been more important than ever. It is thanks to these strong relationships that we have been able to support communities after disaster.
ShelterBox works with organizations around the world to ensure we offer the best support to communities when they lose their homes to disaster and conflict. We have a long-standing global partnership with Rotary International and more recently with Habitat for Humanity International.

The Rotary Club of San Pedro Sula and Habitat for Humanity have been instrumental in our response in Honduras following Hurricanes eta and Iota.
A crucial partnership in Honduras
ShelterBox began with Rotary. In 2000, The Rotary Club of Helston Lizard in Cornwall, UK started ShelterBox as their millennium project.
Rotary has been instrumental in ShelterBox's growth, helping to transform ShelterBox into an internationally recognized disaster relief charity. Thanks to the continued support of Rotarians and Rotary clubs, we have been project partners with Rotary since 2012.
After many years of successful collaboration, ShelterBox and Habitat for Humanity formalized their global partnership in 2017. We work together during disaster responses; ShelterBox focuses on the initial emergency need for shelter after disaster, and Habitat for Humanity International looks to the longer-term shelter needs of families and communities.  We have worked together in responses around the world from India to Malawi, Honduras and the Philippines.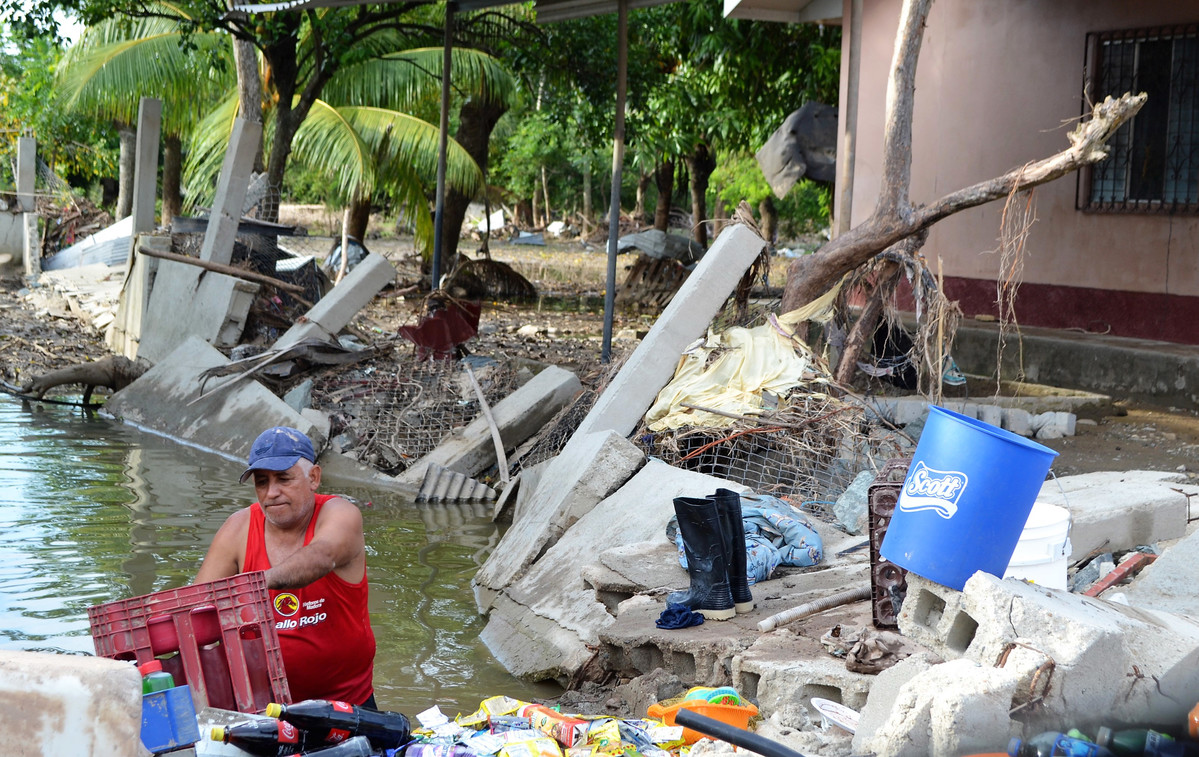 Destruction everywhere, following the two hurricanes that struck Honduras just two weeks apart, in November 2020.
How did we respond to Hurricanes Eta and Iota?
In November 2020, Central America was hit by two consecutive hurricanes within two weeks. Hurricane Iota and Eta brought a wave of destruction across the region.  Iota was the strongest hurricane of 2020, breaking records by being the 30th named storm of the 2020 Atlantic Hurricane Season.  
ShelterBox responded in Honduras, where an estimated 82,307 homes were damaged and 174,241 people had to shelter in collective centres.
This response is a key example of the strength and effectiveness of our global partnerships with Rotary International and Habitat for Humanity International. Coronavirus travel restrictions meant ShelterBox could not deploy a team to Honduras. We partnered with the Rotary Club of San Pedro Sula, Hábitat para la Humanidad Honduras and Habitat for Humanity International to support those who could return to their homes to clean up and repair their homes. Together we distributed emergency shelter solutions in the form of shelter kits, tarpaulins, tools, training , and household items to 3,208 families.
Working with ShelterBox was part of The Rotary Club of San Pedro Sula's wider efforts to provide support and services to those impacted by Iota and Eta. They also distributed food, clothes, personal care items, medical support and facemasks.
A family receives a ShelterBox in the Municipality of El Milagro Villanueva, Honduras.
This response showed the power of partnership: each party brought their capacity, skills and resources to the table. ShelterBox provided equipment and aid items, organized international logistics and provided digital training and technical support. Our pre-positioned stock in our Panama warehouse enabled us to respond more quickly to the disaster.
Habitat para la Humanidad Honduras and The Rotary Club of San Pedro Sula's local knowledge, connections, and networks, were vital throughout the response from arranging importation to ensuring a community-led response.
Habitat for Humanity Honduras were responsible for implementing the response: identifying need, delivering trainings, running distributions and post-distribution monitoring activities. They made sure we reached the most remote and hard-to-access communities, including those in La Mosquitia where kits were transported by barge and then by canoe.  Through working closely alongside communities and local government, they ensured that the people we worked with were at the heart of the response.
The Rotary Club of San Pedro Sula played a vital role in the response, taking on the large and complicated task of getting our shelter kits into Honduras. They coordinated the arrival and unloading of eleven 40ft containers, arranged the tax exemption and provided and managed a warehouse for safe and secure storage. They also utilized their Rotary networks and coordinated other Rotary clubs around the district to support Habitat for Humanity Honduras to select project participants, mobilize communities and distribute emergency shelter solutions.
Every party was responsible for their role in the partnership, so each was able to focus on the critical aspects of their part of the project. Overall these aspects led to lower costs, faster transit time, and therefore the families receiving this aid were benefited at a faster rate.
Alex Ulloa, The Rotary Club of San Pedro Sula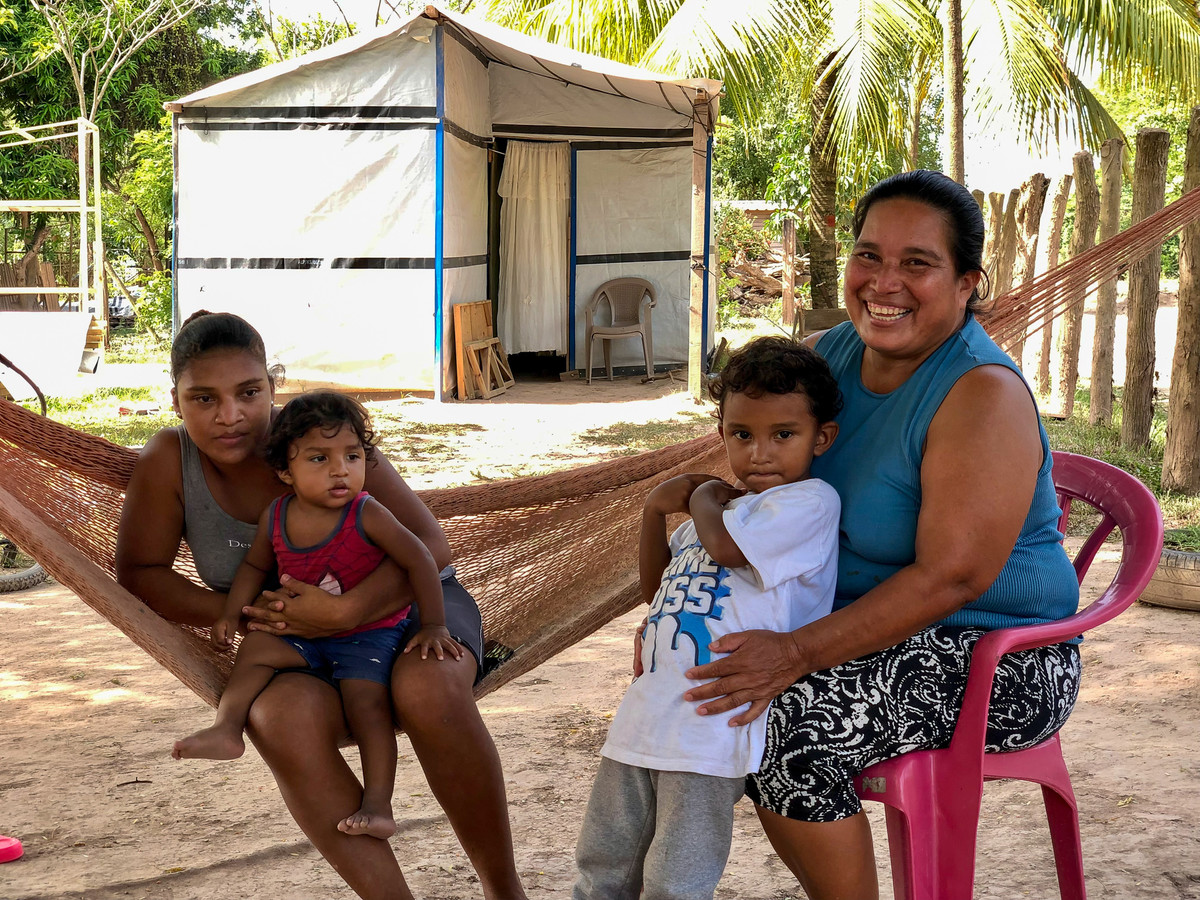 Maria told us: 'When we knew the hurricane was coming, I told my daughter and grandchildren to get ready and to try save as much of our possessions as we could. We went to higher ground where our neighbours lived, but the water soon got too high, so we had to abandon that house. Luckily, we were able to find safer shelter. Over the next fifteen days, we were moving from shelter to shelter. When I finally returned home, I saw everything was mouldy and useless'
Our partnerships with organizations like Rotary International and Habitat for Humanity International are crucial. They ensure that the communities we work with get the best and most appropriate support as they recover.
When Hurricanes Eta and Iota first arrived, María's number one priority was the welfare of her family. It is thanks to our partnerships with Hábitat para la Humanidad Honduras and Rotary, that we were still able to support Maria and her family during a global pandemic. The items she received from ShelterBox have helped them gradually rebuild their home.
'The aid we received from ShelterBox helped us rebuild our home after the storm. Everything was handy, but especially the tarpaulin. I used it to cover the corners and walls of the house that had been damaged', Maria said.
Working with partners is part of our commitment to providing the best possible support to people who have lost their homes due to disaster or conflict. We focus on building lasting relationships and powerful partnerships so we can support people in a way that is right for them. When we work together with partners, we each play an essential role in making sure disaster-affected communities receive the help they need. Our relationship with Hábitat para la Humanidad and The Rotary Club of San Pedro Sula in our response to Hurricanes Eta and Iota, demonstrates how we are truly, stronger together.
'The partnership ran smoothly because every party was clear on the role it had to play in the process; it was pure teamwork' – Alex Ulloa, The Rotary Club of San Pedro Sula.
~~~

Blog
---
World Humanitarian Day 2022
Discover everything you need to know about World Humanitarian Day and meet four real-life humanitarians.

Blog
---
Crisis in the Horn of Africa: Why we must act now
The Horn of Africa is experiencing the worst drought in over 40 years. Learn more about this crisis and how shelter can make an impact.