What is the Rohingya Crisis?
---
Since 2017, Bangladesh has been hosting over 895,000 Rohingya refugees in Cox's Bazar District (2022-04-14). Families have been crossing the border into Bangladesh to escape sectarian violence in Myanmar's Rakhine state.
After the worst flooding that Bangladesh had seen in decades, these families were forced to set up makeshift camps in crowded conditions. Families who fled Myanmar are extremely vulnerable, having already experienced severe trauma.
Many left their homes with nothing, desperately needing shelter, lighting, and water.
We have supported over 4,000 Rohingya families with blankets for warmth, tarpaulins, rope for shelter, solar lights and water carriers, which allows them to collect essential drinking water.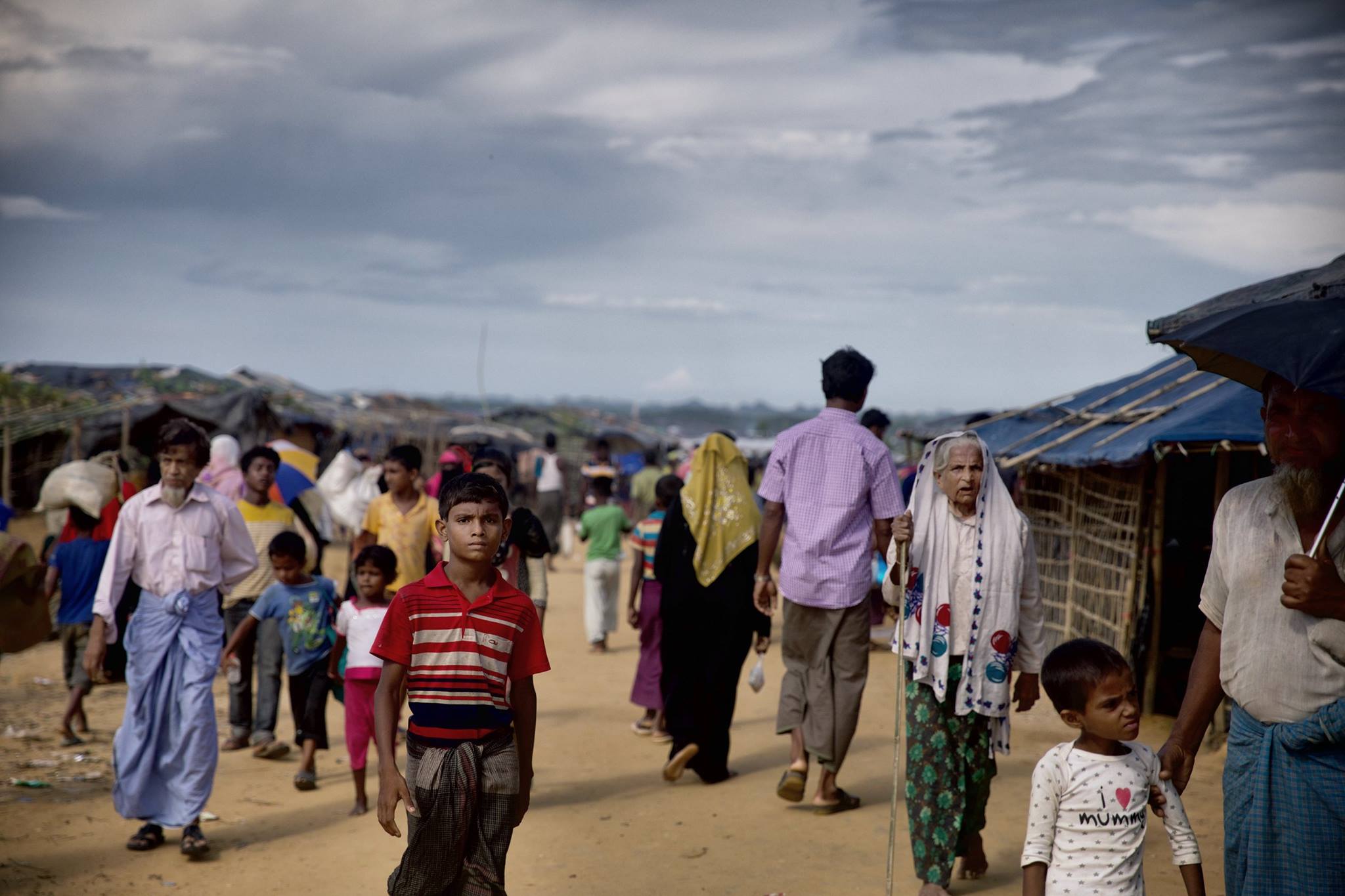 The Situation In Bangladesh
---
Bangladesh cannot cope with the Rohingya crisis alone, especially since the country has been hit by severe flooding since the Monsoon season started in June. At its worst, more than a third of the land was submerged.
More than 100,000 households are completely destroyed, and 600,000 are partially damaged due to the flooding. This destruction has forced eight million people from their homes, while the same extreme weather phenomenon has affected large swathes of India, Nepal and Myanmar too.
We have a team in the country, working with Rotary contacts, authorities and other aid organizations to understand if we might be able to help those who have lost everything in the catastrophic flooding.
ShelterBox volunteer, Liz Odell speaks from Cox's Bazar, October 2017.
'Conditions are dire. Most people are living in flimsy plastic shelters, they have no possessions – just the clothes they were wearing when they left Myanmar. Once cyclone season arrives, these shelters are at risk of washing away.'
We are impatient to see a world where no family is left without shelter – but we need your support.
When asked if she could work in the camp she said, 'there is nowhere for any woman to work and earn money in this camp.'
The main thing that Yazida expressed was that she was just happy to be alive, but felt very helpless. She did not think too much about the future, 'I am struggling with my current position, now that I have lost my husband I feel insecurity for the future.'
Women like Yazida are left truly vulnerable by conflict and disaster, with few other opportunities open to her, she is just one example of someone who could benefit most from humanitarian assistance.
Yazida is a widowed mother of one living in a small makeshift shelter in Kutupalong Settlement, close to the coastal town of Cox's Bazar. She is just eighteen-years-old. Four months ago, she travelled to the camp with her daughter Fatima who was two at the time, after her husband was brutally murdered during the attacks in her village.
Speaking about the day she left she said: 'The military came in and started firing at us. They killed the men and raped many women, so we fled from our country. They stole all of our possessions, our money, our ornaments, even our clothes.'
Once Yazida had fled her village in Myanmar, she walked for two days struggling to carry her daughter the whole way. She said, 'it was really difficult as no one would help me'. Eventually she made it to the border and into the camp, 'when we arrived I was happy to be alive and happy for us to have something to eat'.
Yazida escaped with other family members, her mother and father, and two brothers, but she said now feels a burden on them as she is unable to make any money. Living in the camp she is only doors away from her father, but he has said he is obliged to keep her only because she now has no husband nor son who can help provide for the family.