How is ShelterBox responding?
---
We are working on three projects – two in Ukraine and one supporting those fleeing the county.
(Updated: 2022-07-20)
We are providing thousands of mattresses to collective centres in Lviv, Ukraine. Working with People in Need, we began distributions in March and the delivery of mattresses is continuing throughout April and into May. Collective centres are places where people are seeking shelter and safety. The mattresses will help people sleep at night and get much needed rest during the day. Over 6,000 mattresses have already been distributed to families.
Distributions of thousands of shelter kits and other essential items to help people in Ukraine survive in damaged buildings are continuing, with the help of our partner Relief Aid. The kits contain tarpaulins, tools and rope, thermal blankets, solar lights, buckets and water carriers as well as hygiene items like soap, washing powder and toothpaste.
We are supporting thousands of refugees in Moldova with high priority items they can carry with them. This includes individual hygiene kits with items like toothpaste, soap, and sanitary products. To help people crossing the border to meet their basic needs, including emergency shelter and non-food items, we're also providing cash assistance. We are working with our partner ACTED on this project, after our team visited collective centres and conducted needs assessments at a reception centre near the Ukraine border.
Your donation will help provide lifesaving aid for families affected by the Ukraine crisis or other conflicts and disasters around the world.
What is happening in Ukraine?
---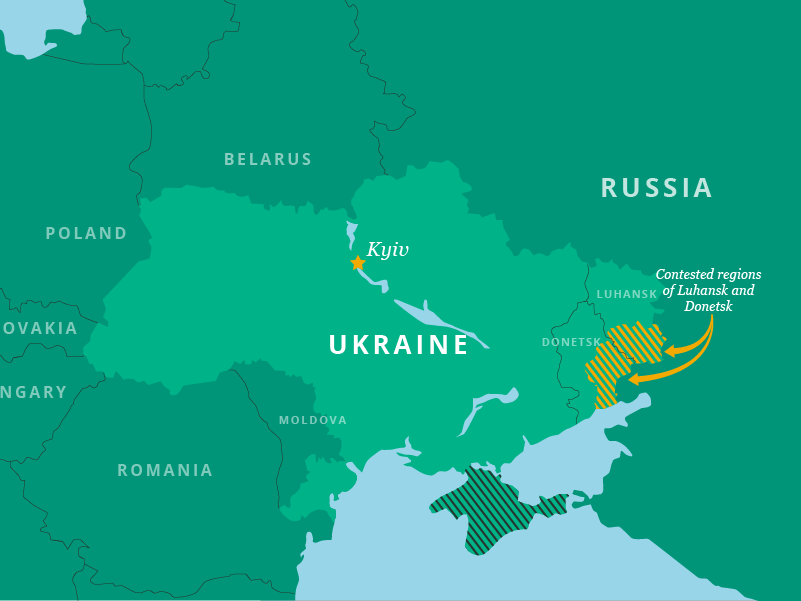 On February 24, 2022, Russia launched a military operation on Ukraine.
Eastern Ukraine continues to face the fiercest fighting, with attacks repeatedly reported. The current conflict is destroying and damaging homes and causing mass displacement. The humanitarian need in Ukraine is dramatically increasing. People are fleeing major cities like the capital, Kyiv, or sheltering where they can in places like metro stations. As of May 3rd over 8 million people have been displaced within Ukraine while an additional 6 million have sought refuge in neighbouring countries. This brings the total number of displaced to over 14 million people
Neighboring countries including Hungary, Moldova, Poland, and Romania are responding to the humanitarian crisis resulting from the conflict.
Referring to the number of people reported having fled Ukraine, the UN High Commissioner for Refugees, Filippo Grandi, said, "This figure has been rising exponentially, hour after hour… I have worked in refugee crises for almost 40 years and I have rarely seen such an incredibly fast rising exodus of people."
We are deeply concerned for families in Ukraine affected by this crisis. We stand with the UN in calling for peace and the protection of civilians affected by the crisis in Ukraine and critical basic infrastructure and services. People leaving must be able to do so safely. Humanitarian access must also be maintained throughout the conflict-affected areas so that the people who need support can find it.
ShelterBox is supporting people affected by the war in Ukraine. We have teams in Eastern Europe, in Moldova and Ukraine, and are working closely with local distribution partners. We are coordinating with trusted partners and other organizations to ensure we help as many people as possible.
We will continue to keep you updated on this response as it progresses.
6 things you should know about the crisis in Ukraine
---
1. Millions of people in eastern Ukraine have been severely affected by an ongoing conflict that began in 2014 when Crimea was annexed from Ukraine.
2. Before the recent escalation in conflict, the UN estimated that 2.9 million people in Ukraine were already in need of humanitarian assistance.
3. According to the UN Refugee Agency, before the latest increase in violence, nearly 1.5 million people were internally displaced within Ukraine, with half being over the age of 60 – making it one of the 'oldest' crises in the world.
4. Since 2014, Ukraine has been the target of multiple cyber-attacks, some resulting in devastating power blackouts affecting thousands of people.
5. Winter temperatures fall as low as -8 °C in Ukraine, causing even more challenges for people caught up in the conflict.
6. The UN is predicting as many 12 million people may need humanitarian assistance, with 6.7 million people projected to be internally displaced within Ukraine and that up to 4 million refugees may be seen as a result of this crisis.