UPDATES FROM THE BAHAMAS
---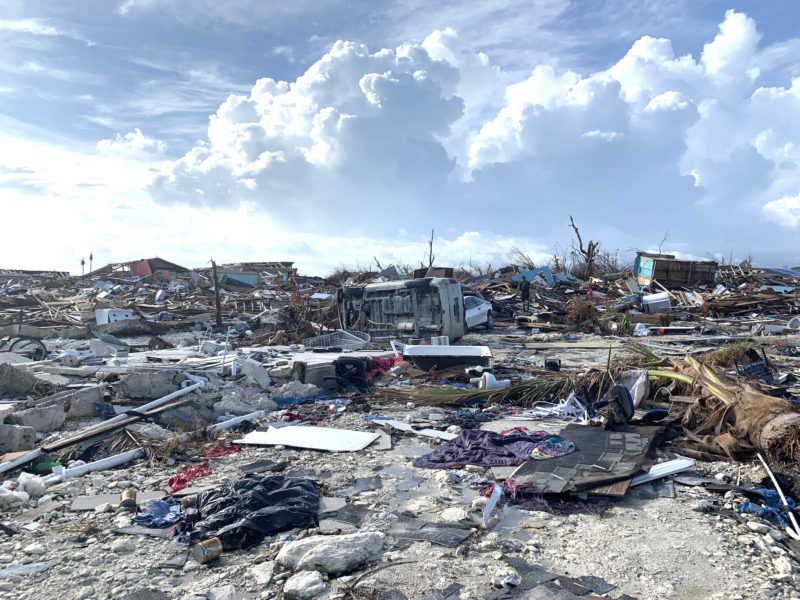 Three weeks after Category 5 Hurricane Dorian devastated the islands of Abaco and Grand Bahamas, search and rescue operations are still underway.
Many people have been evacuated from the affected areas, and over 2000 people are being housed by the government in collective centres. The immediate priorities for these families are food, water, and healthcare.
Due to the fact that there is a lot of debris and hazardous waste, no electricity and difficulty accessing clean water, food and supplies, these families may not be able to return to their home sites for a long time. The Government has also declared a number of affected areas as 'no-build zones' so they can keep focused on search and rescue and clearance.
WHAT SHELTERBOX IS DOING
---
We have a team of five in the Bahamas and they are working very closely with, local and international humanitarian organizations, the government, Rotary and the private sector to gather as much information as possible and be part of a coordinated response.
While some tarpaulins and tool kits are being distributed by local organizations, it is unclear if people will be able to use them at the moment. The situation on the Bahamas is very similar to our previous response to Hurricane Irma and Maria in Barbuda and our learnings from that response, together with conversations with people in the Bahamas, are helping us make decisions about the most efficient way to help people recover in the long term. The infrastructure of the whole island will need to be improved before people could consider living there again, which means emergency shelter is not currently a priority.
Our team has been to Abaco island to speak to the small numbers of affected communities who remain on the island to see if we can find people who need our support. We are working closely with the International Federation of the Red Cross on Abaco, establishing a base camp, to understand shelter needs and the type of aid that will be required.
Rather than rush to provide shelter aid, we want to make sure we fully understand the situation, and what families' longer-term plans will look like. It is important to ShelterBox that we take the time to understand and provide what people need not only right now, but to truly recover.
By taking our time, we can ensure your generous donations always have the greatest impact on families around the world.
Your donation today ensures that whenever and wherever disaster strikes, ShelterBox can be there to understand how best to support communities and, when required, provided the emergency shelter and aid items they need to self-recover.
HOW DOES SHELTERBOX HELP HURRICANE-STRICKEN COMMUNITIES?
---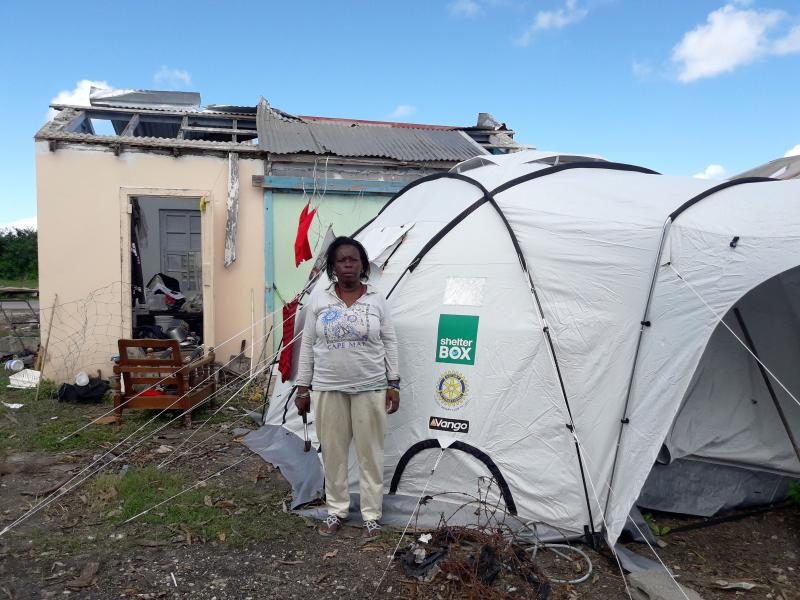 Dealing with the aftermath of a hurricane or typhoon can be very challenging. Whole communities can be destroyed, from people's homes to vital infrastructures such as roads, communication lines, power, and medical facilities.
Despite the challenges, we often respond to places that are hit by tropical storms. ShelterBox provides customized emergency shelter and aid items to help families self-recover after disaster or conflict.
By providing emergency shelter, people can have somewhere warm to stay and feel safe, which makes the process of recovery a whole lot easier.
It has made a big difference to have a tent. It protects me from the rain. I love my tent.
– Amy, Barbuda (Hurricane Maria)
Help Families Recover Today
---
Families need your help to recover from devastating disasters like Hurricane Dorian.
By donating today, you are ensuring that families receive the shelter and tools they need to recover. Thank you for helping ensure that no family is left without shelter after disaster.
Please note: To be as effective as possible we do not accept donations to specific disasters.