Tiny Island Battered
---
Tonga declared a state of emergency as they braced for Category-4 Tropical Cyclone Gita.
Bringing winds upwards to 260kph, heavy rain and a dangerous ocean storm surge, Gita has battered the tiny South Pacific island nation.
Now Tonga is dealing with the aftermath of destroyed homes, fallen trees and no power on the island.
Gita is now on track to hit Fiji. Our disaster experts are currently monitoring the situation.
Looking Back: Cyclone Winston
---
On Saturday, Feb. 20 2016, Category-5 Tropical Cyclone Winston made landfall in Fiji.
It was the most powerful storm ever recorded in the South Pacific paradise islands with winds over 320 kph, torrential rain and 12m waves.
The 'megastorm' killed 44 people and damaged or destroyed over 40,000 homes.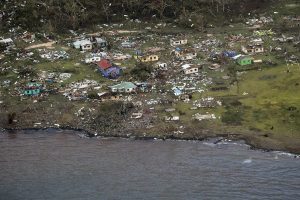 Aerial image of Winston's destruction.