20 million people are at risk of famine across four countries in Africa and the Middle East.
ShelterBox is currently working with partners to deliver life-saving aid in Somaliland, an area where few other organizations are focusing relief efforts. Three years of poor pasture and a consistent lack of rain are making families incredibly vulnerable.
Reports indicate that already 80% of livestock have perished – livestock that were their main source of food and income.
Thirst and malnutrition are daily threats, and families are becoming even more widely displaced as they head off into the desert to seek pasture.
ShelterBox is working with partners to deliver essential portable shelter and supplies like mosquito nets, solar lights, and blankets and groundsheets. With these supplies, nomadic families can continue safely moving with their livestock to keep them alive.
ShelterBox has been working closely with the aid community and government officials since March to understand the scale of the crisis. We are doing everything we can to deliver shelter and protection from the elements to these families. Watch this video to hear from our team while in-country.
Government of Canada Matching of Famine Relief Donations
---
ShelterBox Canada is providing emergency shelter and supplies to families affected by severe drought in Somaliland. We are also aiding refugees in Cameroon, Niger and Chad who have fled conflict and food insecurity in Nigeria.
For eligible donations made by individual Canadians to registered Canadian charities (including ShelterBox Canada) until June 30th, 2017, the Government of Canada will contribute an equivalent amount to their own Famine Relief Fund.
ShelterBox Canada is participating in the matching program up to $150,000 raised. This is what we can currently guarantee will be spent on our response to this crisis (all funds matched by the Government must be spent on famine relief in this region).
Working in extreme conditions
---
"I responded to Somaliland with ShelterBox in 2007 and 2009 for people displaced as a result of conflict, but this is different. This is a huge humanitarian challenge that will affect so many. I feel the work we are doing here will allow some of the most vulnerable of the displaced to continue to live as normal a life as possible with dignity, when conditions are so extreme."
– Pat Prendergast, ShelterBox Response Volunteer
"As a new staff member it's been fascinating to be in Somaliland and see how ShelterBox thoroughly investigates a scenario before it responds. This approach means that not only does the affected population receive assistance appropriate to their needs, it ensures ShelterBox makes the most of every pound donated to us."
– Dave Raybould, Operations Coordinator
"As Operations Team Lead I've responded to the biggest natural disasters in recent years, but I've never been in a situation like this. The scale and impact of this drought is overwhelming and its only going to get worse until the rains come, but we don't even know when that will happen. People need ShelterBox's aid right now, and we're going to do everything we can to help them."
– James Luxton, Operations Team Lead
Regional Crisis
---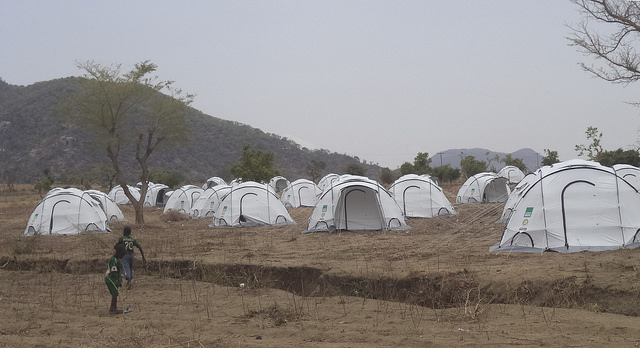 The crisis in Africa is affecting millions of people, with conflict enhancing the famine in Somalia, South Sudan and Yemen. Neighbouring countries, such as Cameroon, Niger and Chad, are also going to be affected and ShelterBox is no stranger to working in that region.
We have been working in Cameroon and Niger for the past three years, providing aid to families fleeing violence and food insecurity in Nigeria. We have provided full ShelterBoxes and tents to those living in camps.
ShelterBox is committed to helping these families, and with your help we can reach even more.
Cafe prosperity
---
The last time we were in Somaliland was in 2009, when we were helping people displaced by conflict.
Eight years on, as our team were travelling down a bumpy, dusty desert road, they came upon a lone tent with a ShelterBox and Rotary International logo on it.
The owner of the tent, Muna Mohammed now uses the tent as a café. Muna, aged 21, has made good use of the original tent, weaving it together with other material to form a traditional Somali house. This is a new method of up-cycling we haven't seen before, and it's great to see such adaptability and resilience.
Muna proudly told the team her tea is the best in Somaliland, she has called the café Prosperity.