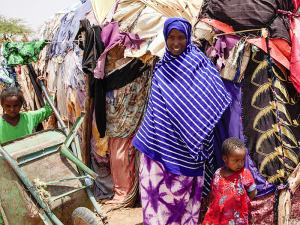 Severe drought has affected around 766,000 people since November 2016. Many are pastoralists and have lost up to 70% of their herds.
The drought and lack of food have heightened the risk of disease and illness, whilst flash rainstorms are further exacerbating the danger.
With the support of our in-country partner Action Aid, we've been able to provide aid to 2,000 families recently.
We provided ShelterBoxes, which include tarpaulins, mosquito nets, kitchen set, a toolkit, ground mats, solar lights, water carrier and pegs.
Distributions in Somaliland are now completed.
"We used to have so many goats, but they have almost all died and there is no more pasture for those that are left" – Nimo, wife and mother of seven
ON THE GROUND
---
We have worked closely with ActionAid to ensure that families have safe shelter throughout Somaliland, supporting them with ShelterKits, including tarpaulins and kitchen sets.
The water filters are proving essential in combatting disease, as dwindling water sources are becoming contaminated and some parts of Somaliland are in the grip of a cholera epidemic.
Watch the video by Aaron Watts-Jones, Operations Coordinator, to learn more about our response.
CAFE PROSPERITY
---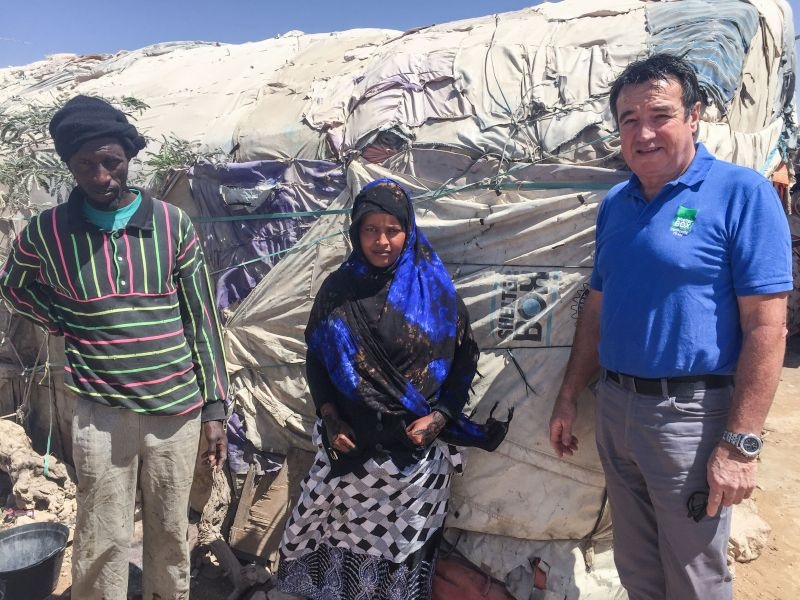 The last time we were in Somaliland was in 2009, when we were helping people displaced by conflict.
Nine years on, as our team were travelling down a bumpy, dusty desert road, they came upon a lone tent with a ShelterBox and Rotary International logo on it.
The owner of the tent, Muna Mohammed now uses the tent as a café. Muna, aged 21, has made good use of the original tent, weaving it together with other material to form a traditional Somali house. This is a new method of up-cycling we haven't seen before, and it's great to see such adaptability and resilience.
Muna proudly told the team her tea is the best in Somaliland, she has called the café Prosperity.
HOPE & STRENGTH
LONDON BASED FASHION PHOTOGRAPHER AND DIRECTOR OLLY BURN TRAVELLED TO SOMALILAND, DOCUMENTING THE HOPE & STRENGTH OF THE PEOPLE HE MET.