'Access to affected communities is challenging'
---
ShelterBox team deploys to Kenya to assess shelter needs after major flooding and a burst dam.
Flooding in Kenya has so far claimed 170 lives. Last week, a dam in the Rift Valley burst unleashing reservoir waters that careered into two villages killing more than 50 people. ShelterBox is now in Kenya to see if it can help, as an estimated 300,000 people have now been forced from their homes.
Across Kenya, heavy rain and landslides have caused over a quarter of a million people to leave their homes. Some in remote communities needed rescuing by helicopter.
A dam burst on a commercial flower farm in Kenya's Rift Valley has killed more than 50 people in two villages, half of them children. The reservoir, situated on top of a hill 193 kilometres from Nairobi, gave way a week ago today as nearby residents were sitting down to their evening meals. The deluge swept away powerlines, homes and buildings, including a primary school. The search through mud for bodies is still continuing.
International disaster relief agency ShelterBox is an expert in providing emergency shelter for displaced communities, and can supply essential items such as solar lighting where power is down, tools and tarpaulins for rebuilding, and water filtration where there are fears of water-borne disease.
ShelterBox Operations Coordinator Rachel Harvey is currently in Nairobi, and says,
The rains this year have been heavy and protracted. The cumulative impact on roads and other infrastructure has been severe which makes access to affected communities challenging. Even when the flood waters recede the damage will take time to repair.
Two ShelterBox Response Team members flew out to Kenya yesterday to talk to government agencies and the aid community to see whether there is a role for ShelterBox in this ongoing disaster response.
Operations Coordinator Jo Arponen says, 'Initially it seemed the local authorities and the Kenyan Red Cross had enough resources to manage the flooding situation. But now we are hearing that stocks of high quality shelter materials are running low. So our team will be working out what is needed where and how long it might take to get ShelterBox aid into the country. We need to make sure that any aid we send is appropriate and timely.'
ShelterBox has responded in Kenya several times over the years, including in 2010 to flooding in the Turkana region, to widespread drought in 2011/12 when 7,000 tents were supplied, and to help families fleeing conflict in neighbouring countries in 2006 and 2008.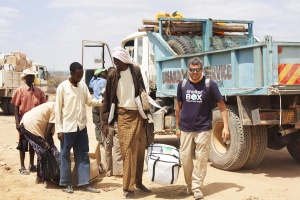 ABOUT SHELTERBOX
---
ShelterBox is a disaster relief charity, specializing in providing emergency shelter for vulnerable families who have lost everything during natural disasters and conflicts. Among the specially-sourced equipment packed into its distinctive green boxes are tents tested in extreme weather, solar lighting for when power is down, water filtration to combat disease, and items to keep families warm and able to cook together. The charity also distributes kits containing tools and tarpaulins to help people repair their damaged properties, clear ground, and to waterproof roofs.
ShelterBox relies on generous supporters to fund its vital work, and is the official project partner of Rotary International in disaster relief. ShelterBox Canada is one of 17 international affiliates around the world.