Perfect for sharing on a cold evening
---
Jim Carriere is the former Chair of ShelterBox USA's Board of Directors. He shares with us his famous Jambalaya recipe, perfect for sharing.
Add as much or little of this spice mix as you'd like, adding all of it will make a very spicy jambalaya!
Jim's Jambalaya
---
INGREDIENTS
• 1 cup uncooked long grained rice
• 3 tablespoons minced garlic
• 1 cup diced celery
• 1 cup diced green bell pepper
• 1/2 cup diced red onion
• 1 1/2 cups chopped fresh tomatoes (you can use a can of chopped tomatoes to make it even easier)
• 1 bunch of green onions, chopped
• 2 chicken breasts, seasoned however you like, grilled and then chopped
• 1 package smoked sausage, grilled and chopped
• 3 cups raw, peeled shrimp
• 1 stick of butter
For the spice:
• 1 tablespoon Creole seasoning
• 1 tablespoon of ground cayenne pepper, ground white peppper, ground black pepper and salt
METHOD
Cook the 1 cup of long grain rice on a stove or using a rice cooker.
In a large pot, melt the butter, then saute the bell pepper, celery, red onion, and 2 tablespoons of minced garlic. Throw in some of the seasoning mix, again the more you use the spicier your final jambalaya.
After about ten minutes, add the chicken, sausage, shrimp, tomatoes and green onions.
Add the last tablespoon of minced garlic and stir in more seasoning mix.
Continue stirring for another 10 minutes or so, if necessary adding more seasoning mix as you go. Once the shrimp are semi-cooked, taste the liquid, give it a few seconds for the spice to kick in, then decide if you need more spice! Keep stirring until shrimp are nearly done.
Fold in the cooked rice, lower the heat and cook another 5-10 minutes or so, until the rice has absorbed most of the liquid. Stir often so the bottom doesn't burn.
Before serving, stir in half the green onion tops, then garnish the top of each serving with the rest of the green onion tops.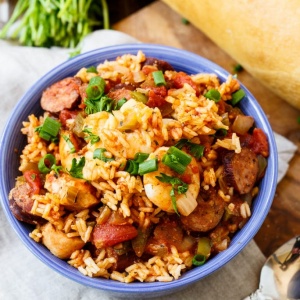 Shine for ShelterBox
---
Host a Shine for ShelterBox candlelit dinner this holiday season.
Get together with friends and family to eat, drink and raise money for families who have been devastated by disaster or conflict.