What's happening in the Horn of Africa?
---
The Horn of Africa is facing its worst drought in more than forty years. After four consecutive failed rainy seasons in parts of Ethiopia, Kenya, and Somalia, people are living on the brink of famine.
Across East Africa, almost 36 million people have been affected by the drought. More than 1.5 million people are displaced, and many of them are on the move as they desperately search for food.
ShelterBox is responding. Find out more about the situation in the Horn of Africa and how we're helping.

Help Families In Crisis Today
---
Donate Now
How is ShelterBox helping?
---
Communities affected by severe drought in the Horn of Africa desperately need emergency shelter.
Millions of people are at risk of famine, and many more are leaving their homes and livelihoods behind in search of food. That's why we will be providing emergency shelter aid to 12,000 displaced people affected by the drought in the Somali region of Ethiopia.
Cycle 1, which is now complete, supported communities in both the Somali region displaced by the drought; and communities in the Afar region who have returned to their homes following the conflict in Tigray. Distribution cycle 2 will support families affected by drought and conflict in the Somali region and communities displaced by inter-communal conflict in the Southern Nations, Nationalities and People's Region (SNNPR).
Our aid includes tarpaulins, rope, and other essential items. These will allow people to build emergency shelters to help protect themselves from the elements.
It will also give people who have been forced to leave their homes a private space they can temporarily call home and be together with their families.

Where is the Horn of Africa?
---
The Horn of Africa is the easternmost peninsula of the African continent.
The name comes from the horn-shaped land formation of the region.
The Horn of Africa includes Somalia, Eritrea, Djibouti, Ethiopia, Kenya, Sudan and South Sudan.
The peninsula has an estimated population of 115 million and about 130 languages.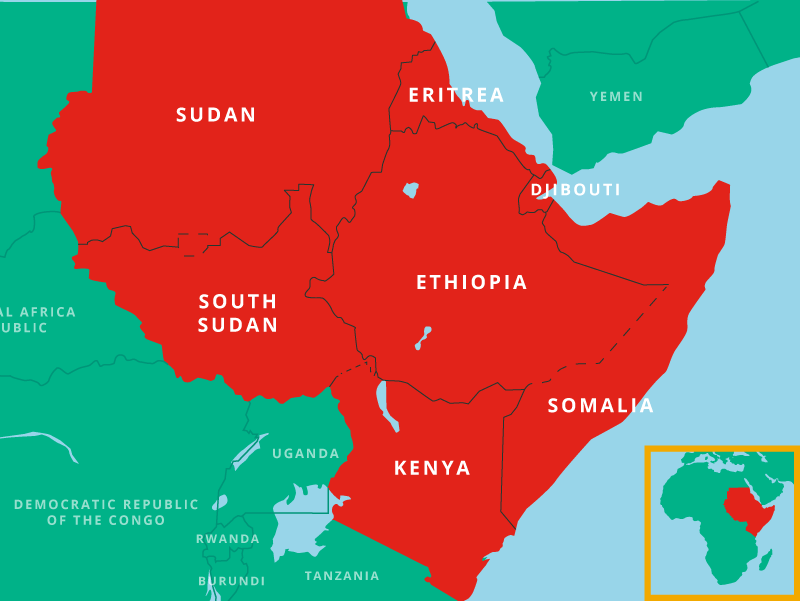 Why is the Horn of Africa so dry?
The Horn of Africa is facing its worst drought in more than forty years.
The October-December 2020, March-May 2021, October-December 2021, and March-May 2022 seasons all experienced below-average rainfall. This has left large swathes of Somalia, southern and south-eastern Ethiopia, and northern and eastern Kenya facing the most prolonged drought in recent history.
Why is the Horn of Africa important?
With the world's attention on the conflict in Ukraine, what we are seeing unfold in the Horn of Africa is largely underreported and little-known.
It is important that we shine a light on what is happening in East Africa.
The region is experiencing the dire impact of the worst drought in over 40 years, driven by climate change. Conflict has also been driving people from their homes. This has created a desperate situation for vulnerable communities who urgently need support.
Is climate change causing drought in East Africa?
Droughts are a natural part of our climate. Moving weather patterns like high temperatures and lack of rain define and influence droughts.
But the climate crisis is worsening extreme drought in some regions around the world, including the Horn of Africa.
Conflict in the Horn of Africa has been a long-standing driver of displacement. But extreme weather, made worse by the climate crisis, is damaging crops and killing livestock. Increasing temperatures and more extreme changes in rainfall patterns are worsening drought conditions. As a result, more people are on the move to find food, water, and somewhere to live.
These conditions can also lead to social unrest, famine, and migration.
How does drought drive displacement?
Food insecurity caused by extreme drought is a major factor driving displacement.
For example, in Somalia there are more than seven million people affected by the drought. 800,000 people are displaced and many of them are still on the move as they desperately search for food, water, and grazing land for their livestock.
How is the Ukraine war affecting the crisis?
The conflict in Ukraine is severely affecting people facing extreme hunger across East Africa and other parts of the world.
Known as the world's breadbasket, Ukraine supplied 10% of the world's wheat before the conflict. But the war has severely disrupted the supply. Ukrainian grain imports to Somalia and Ethiopia have stopped. And combined with the extreme drought conditions, this has led to escalating costs and a lack of food across the Horn of Africa.
The higher cost of living is affecting many of us around the world. However, for people already on the brink of starvation, it has become a life-or-death situation.

Disasters explained: Droughts
Droughts affect millions of people each year. Learn what they and and how we've supported communities.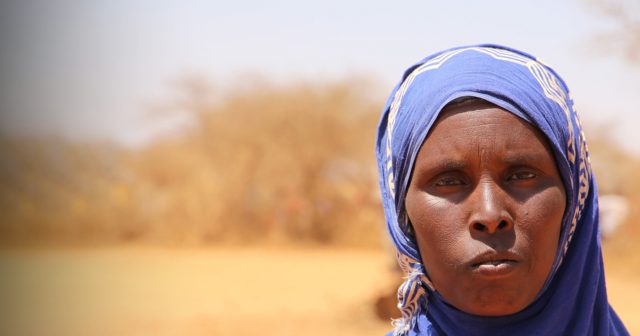 What are climate-related disasters?
Our changing climate is making large weather events like droughts and hurricanes worse. Learn more about climate-related disasters.