44-year-old Ella has lived in La Plaine all her life, a rural village to the east of the island of Dominica. She lived in a wooden two bed house with her five children and one grandchild. This was before Hurricane Maria flattened her home.
Ella and her family decided to leave their home during the storm.
All Ella could do was gather her children together, grab some clothes and a mattress and walk to an abandoned concrete house nearby. When they reached the house the door was missing and the roof was gone. They had to seek cover in the basement, cold and wet from the storm. "It was in a very bad condition, never used so very dirty and after Maria came even worse, I had to disinfect it all", she said
When we heard, it was just going to be a category three or four hurricane, not category five – we weren't ready, we weren't expecting it so hard, that Monday morning we waited for it, we saw the rain and more rain and then came the wind.
Ella and her ten-year-old daughter Jendi started giggling a lot while telling the story of a time when she tried to put her to bed.
There was limited space due to roof leaking, no mattress as they were destroyed by the rain so a makeshift wooden bed and some cushions that had dried in the sun were the solution. "The next thing you know rain started to fall straight onto her, I had no place to put her, so I had to put her in the kitchen with eight bedsheets on the floor as the cushions were wet".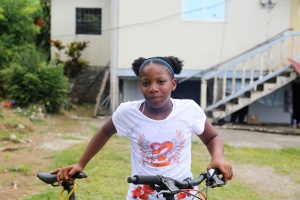 When you were sleeping in the basement it would make you tired because you're worrying, we tried to cope with it but you're frustrated and not sure but we talk about it you just have to know that's life, that's how it is, nowhere to go and nothing to do.
Gabina, Ella's eldest daughter who is 25 and has a daughter who is three now lives in the tent. Ella said the tent gave them space to rest, when all the family were in the basement there was not enough room to sleep.
It wasn't just the tent that made a difference to Ella and her family's daily life,
I don't like the darkness and having the solar light helped, thanks to you for the tent it came at such a good time.