Why SchoolBoxes?
---
When disasters occur, people's lives are turned upside down. For children, this can be particularly difficult. They may have lost all of their possessions, have to sleep in an unfamiliar setting, and be traumatized by what has happened. On top of that, often after disasters, children's education is interrupted.
There are so many reasons why it is important for children to go to school, however, ShelterBox knows first hand that after disasters, helping kids get back into a normal routine, and giving them a safe place to go, and possessions of their own is a very important part of their recovery process. That is why we provide SchoolBoxes.
SchoolBoxes provide a classroom in box with supplies for 50 students. In addition to our ShelterBoxes and ShelterKits, these SchoolBoxes help families and communities recover and rebuild after disasters.
Word had got out and, by the time we arrived, the whole village was there to greet us. It was an incredible sight! 600 children sat in a huge semicircle, along with the entire village. Everyone here knew that a school meant a future for their children.
Together we can help families recover from disasters
---
From August 1st to August 21st ShelterBox Canada is trying to raise $15,000 to send 650 children back to school after disasters.
We believe in #Education4Recovery. Please help us reach our goal today by donating or sharing our campaign.
Watch the video to learn more about our SchoolBoxes from ShelterBox Operations Team Lead, James Luxton.
What's in a SchoolBox?
---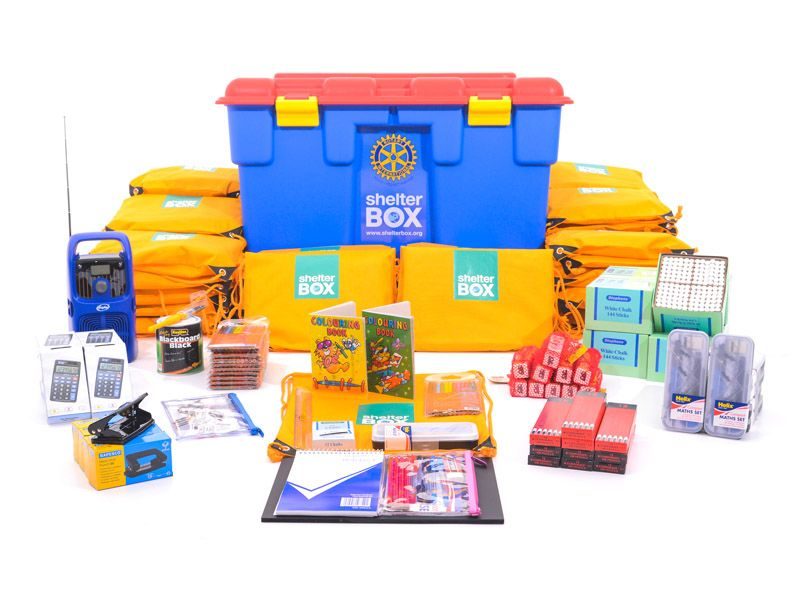 Blackboard paint and paint brush
1000 pieces of chalk
Pencils (120)
Hole Punch (4)
Solar radio (1)
Solar calculators (10)
Pencil Sharpeners (18)
Geometry kits (10)
Pencil crayons (120)
50 backpacks with supplies (colouring books, notepad, pencils, pencil crayons, eraser, sharpener, geometry kits, chalkboard)
SchoolBoxes in action
---
Faith and 600 more students were able to return to school after months of turmoil in Chingwizi, Zimbabwe.
After Southeastern Zimbabwe experienced the worst flooding in 40 years, Faith's village was forced to move to temporary shelters in Chingwizi, far away from their homes and school.
Teachers had set-up a makeshift school with almost no supplies. Without basic supplies, they knew it would be impossible to continue teaching. A ShelterBox Response Team returned to the village with SchoolBoxes.
The teachers seemed just as excited as the children when opening the SchoolBoxes. They pulled out a solar-powered radio and after that, boxes and boxes of chalk, plus dozens of yellow school bags for the children.
When it was Faith's turn to receive her yellow bag, she looked fit to burst with delight. Faith treated her bag like a treasure, after all her possessions had been washed away in the floods. This was the first thing she'd been given that was hers.
As I looked across the expanse of red dust, there were spots of bright yellow as far as the eye could see – a yellow bag on every child's back. They had their future back.
Liz Odell, ShelterBox Response Team Member