Get your hands dirty and create for shelter!
Make a goal: 
Choose a specific quantifiable goal. Choose an amount you want to raise or a number of hours you want to spend making your project or chose an item to make and sell. Why not set a goal of $10 an hour for 15 hours?  This would set your goal at $150 or the cost of a ShelterKit!
Marathon or Make-sale? 
Your decision to make for ShelterBox can be as creative as you want it to be! For a make-athon, get pledges for hours focused on creation. You can also make something you love and sell it to your community to raise funds. Turn your bake sale digital by taking preorders and delivering cookies to your neighbours – contactless of course!
Make a fundraising page: 
Create your own fundraising page to share with your supporters. It's yours to personalize with photos, messages and share with supporters why you are so passionate about taking this challenge on. This is also where all of your supporters can pledge towards your goal!  If your focus is a Make-sale this page will also allow supporters who purchase to up their donation if they are inclined. Don't forget to email your circle to let them know about your new page! Check out a sample template here.
Make a team:
We are all stronger together. If you're part of a knitting circle, get the whole group involved and work together to reach a goal. Not part of a group yet? Find yourself a partner who can help to keep you challenged! Go even one step further and challenge 5 to join you.
Share your Plan: 
Share your challenge on your social media, letting people know how to Don't forget to tag us @ShelterBoxCanada!
Nervous about getting started? Check out some of our fundraising tips here.
Rakhi's Paintings for Shelter
---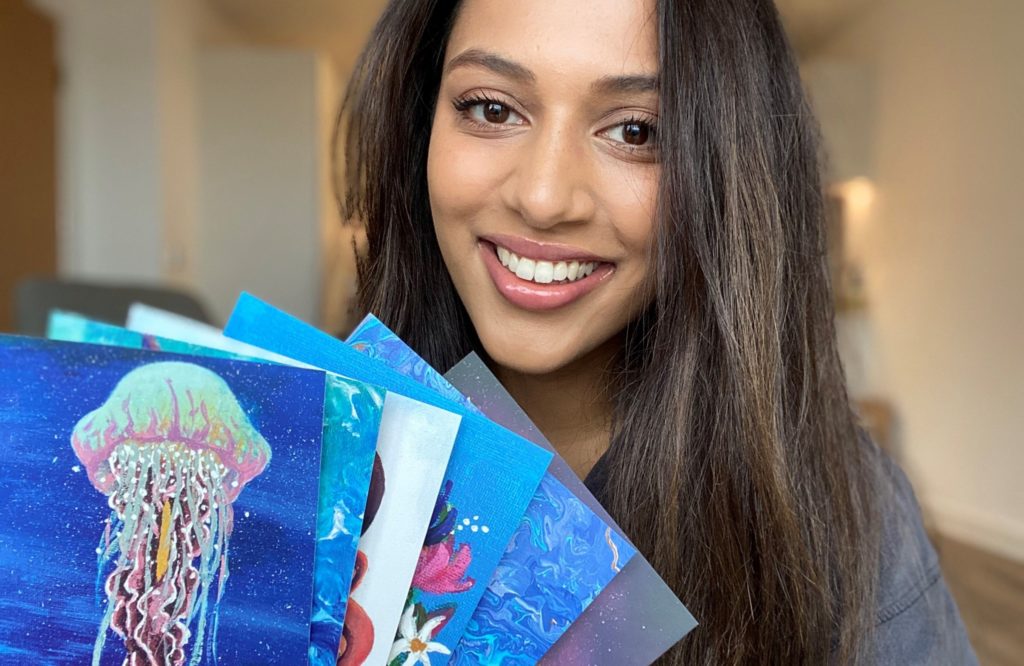 Rakhi is a junior doctor at a Birmingham hospital in the UK, who has used her lockdown paintings to raise money for ShelterBox. After busy and challenging shifts, Rakhi picks up her easel and paints her worries away. Often inspired by the natural world and full of warm, uplifting colours, Rakhi posts her artwork on Instagram, and sells prints and originals for donations on JustGiving.
We've got your back
---
Have any questions, concerns or just need some help getting started? Send us a message.
Making not for you? Check out our other challenges
---