Blog
---
We Put Families First, Be We Do Not Seek To Hold One Definition of What a Family Is



As Pride month begins and we celebrate and honour those before us who tirelessly fought for the rights and freedoms of the 2SLGBTQI+ community, it is important to recognize the many struggles still faced by many in the community around the world.
Same-sex relations are a crime in over 70 countries around the world today, with varying forms of punishment, including death. But even in countries where queer identities are not punishable, they are still not 'recognized,' creating lots of issues for families requiring humanitarian assistance.
In a recent article by Sam Ritholtz in The New Humanitarian, Sam outlines many instances of families and individuals being left behind and excluded by local humanitarian efforts. In one instance, Rhed from the Philippines recounts being denied food aid from their city because "lesbian couples don't count as a family in the eyes of local government." Rhed and her partner were denied any government supports. If it weren't for family and friends they would not have been able to sustain themselves throughout lockdown procedures during coronavirus.
2SLGBTQI+ discrimination continues to negatively impact families who are already affected by disaster and conflict. At ShelterBox, our mission is to reach communities and those often overlooked by others. Our goal is to support some of the most vulnerable families after disaster and provide them with a place to call home. This includes those within the 2SLGBTQI+ community.
'We put families first, but we do not seek to hold to one definition of what a family is.'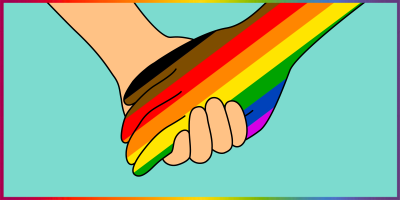 A Message from ShelterBox CEO



ShelterBox Chief Executive, Sanj Srikanthan, reflects on this work during pride month:
"In some of the countries where we work and will work, there remains a form of discrimination that remains institutionalised in law, and where the humanitarian principle of impartiality is continually challenged. Moreover, humanitarians around the world who identify as members of the LGBTQI+ community often hide their sexual orientation or identity to be allowed to continue to work.
"June is LGBTQI+ Pride Month and it is a celebration of how far the world has come and a reflection of how far we have to go to remove discrimination from our treatment of those who are LGBTQI+. The reality is that while there have been many public calls from businesses, civil society, political leaders, and faith groups to recognise this, the everyday treatment of many LGBTQI+ remains unacceptable and often unknown.
"ShelterBox's values extend to how we remember the struggle against discrimination. We put families first, but we do not seek to hold to one definition of what a family is. We go further to deliver to 'hard to reach' communities which includes the LGBTQI+ community, often one of the hardest to reach.
"We have much to do to think about how we operationalise our actions to ensure we deliver according to need and oppose attempts at discrimination. But our acknowledgement of this goal is best articulated by our wholehearted support for LGBTQI+ Pride and reflecting on the journey of fellow humanitarians and clients we serve who are members of the LGBTQI+ community."




Blog
---
World Humanitarian Day 2022
Discover everything you need to know about World Humanitarian Day and meet four real-life humanitarians.

Blog
---
Crisis in the Horn of Africa: Why we must act now
The Horn of Africa is experiencing the worst drought in over 40 years. Learn more about this crisis and how shelter can make an impact.