Blog
---
Canyon Lister students vow to "Be the Change"
Be the Change is a group of dedicated volunteer students from Canyon Lister Elementary School in Canyon, British Columbia. As a UNESCO school, Canyon Lister students have learned the importance of supporting others and believe that we all must "be the change" – caring for each other, our community, and our world.
For the second year in a row, Be the Change has chosen to support ShelterBox Canada and provide aid for families around the world who have been affected by disaster and conflict. Their international goal for the 2019/2020 school year was to raise $1200, enough for one ShelterBox that provides shelter and aid items for a family of five. We are thrilled to hear that they achieved their goal despite the year being cut short!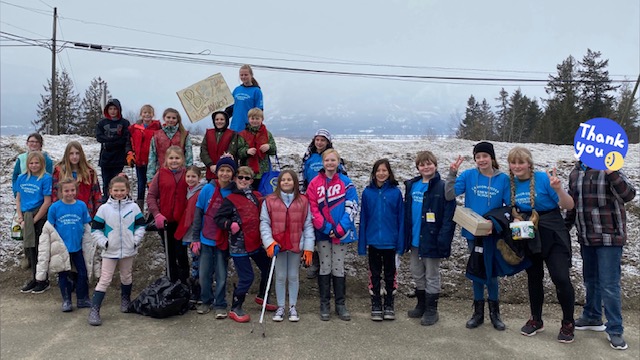 Canyon Lister students working to make a difference!
The journey to achieving this goal was filled with many wonderful learning and working opportunities. Be the Change students made pink cupcakes that they sold for anti-bullying awareness, and they also had a bake sale to sell bannock. For the holidays, students sold their homemade items at their Christmas craft sale. They also received various community donations throughout the year for their wonderful efforts.
Even though the school year ended early due to the pandemic, the students still very much wanted to make a difference. At Canyon Lister, students gather in a circle each week to practice the belief that we all hold each other up and we are all a part of the circle. They wanted to show families in need that whether we live halfway around the world or just next door, they care.
Thank you so much to the Be the Change group and the incredible students at Canyon Lister Elementary School. We are so honoured to receive this donation and humbled by your hard work and dedication to making the world a better place! During these difficult times, these stories of inspiration remind us that we are all in this together and that by holding each other up, we can get through anything.
Thank you for being the change!
Find out how you can get involved and fundraise for ShelterBox Canada.

Blog
---
World Humanitarian Day 2022
Discover everything you need to know about World Humanitarian Day and meet four real-life humanitarians.

Blog
---
Crisis in the Horn of Africa: Why we must act now
The Horn of Africa is experiencing the worst drought in over 40 years. Learn more about this crisis and how shelter can make an impact.