ShelterBox aims to support Rotarians, Rotary Clubs and any Rotary groups that wish to fundraise for ShelterBox.
We know that everyone likes to engage with ShelterBox in different ways, so we've developed a few campaigns that inspire people and communities to get together and raise funds and awareness for ShelterBox. These campaigns are great for Rotary clubs big and small!
Join other clubs in your District and sign up for a fundraising page here
Download our group donation form here
Looking for additional resources such as videos, social links and case studies to help with your fundraising efforts? Check out our additional resources section for help!
A ShelterBox Canada Hero is a Rotary Club that has identified the continuing need to prepare for disasters and respond at a moment's notice. Clubs are recognized based on their total annual giving throughout the year. There are three ShelterBox Hero levels: Bronze ($1,200+), Silver ($3,600) and Gold ($6,000).
In appreciation, each ShelterBox Canada Hero will receive a Hero certificate at their District Conference, a digital badge for their website and recognition on our webpage.
This elite group has identified the continuing need to prepare for and immediately respond to disasters and conflict around the world. Annual donations allow ShelterBox to pre-position aid in or near countries where we respond often, resulting in a more efficient and timely response.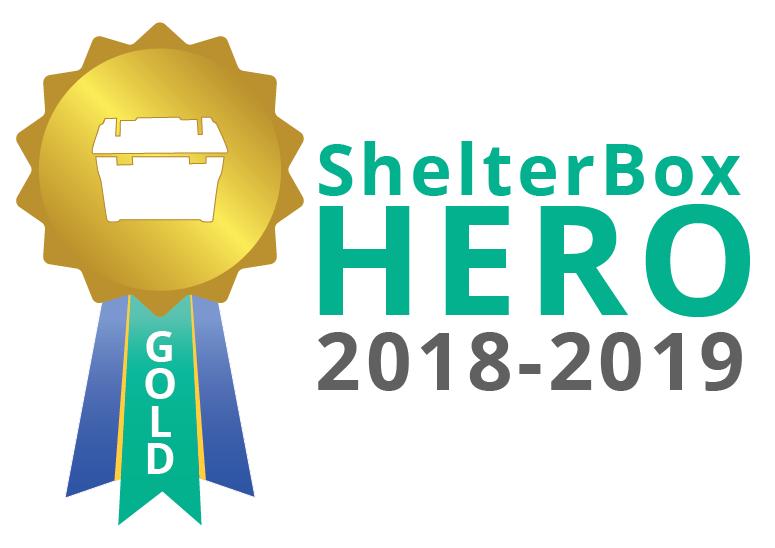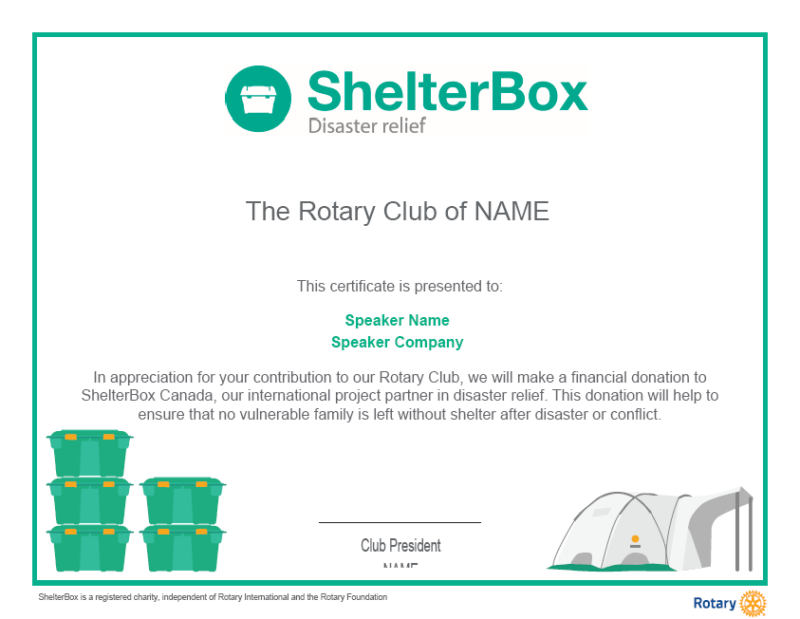 Thank your guest speakers with a donation in their name to ShelterBox and ensure no one goes without shelter after disaster. Use our customizable speaker certificates to get started.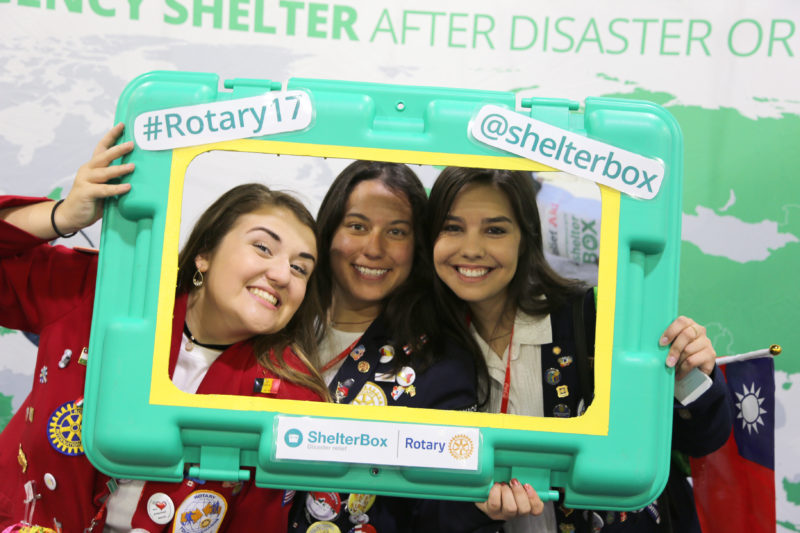 The ShelterBox Youth Exchange Challenge is back for 2023/2024! YEX is an exciting opportunity for participants of the program to develop many personal skills all while supporting a Rotary Project Partner and make a real difference to communities across the globe who have lost everything.
Your Idea Here
---
Be as creative as you want, but in case you still need a creative spark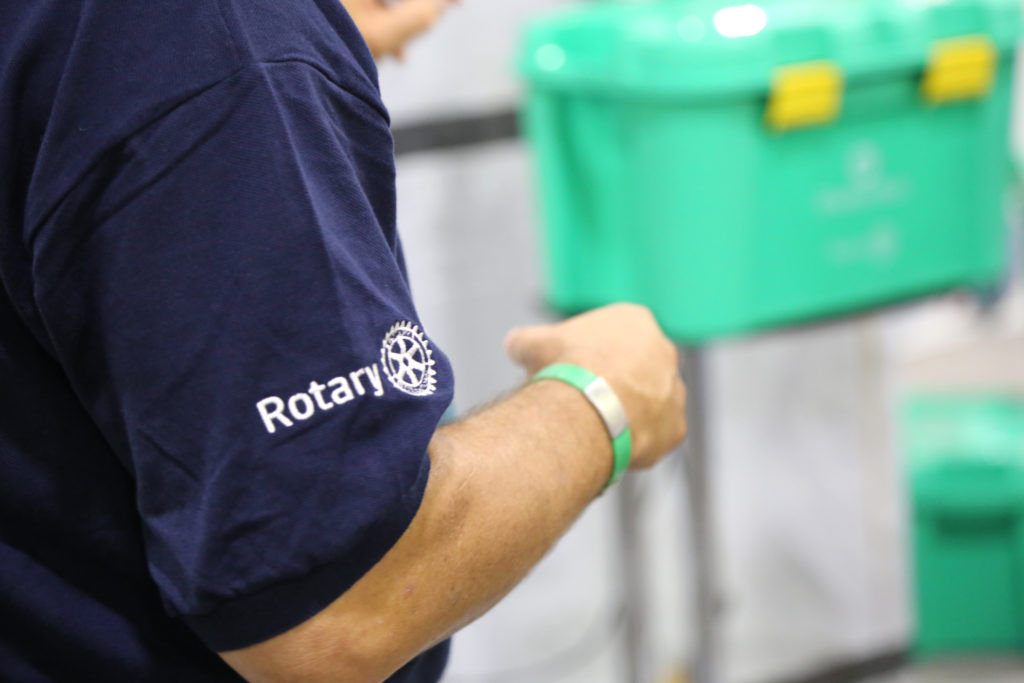 Create your own online fundraising page and start raising funds through any creative project that you have in mind. The Sky is the Limit! Take account of the skills and resources already in your club, why not get the whole Rotary community involved.
Plan a:
– Community Dinner
– Sports Tournament
– Camp Out
– Community Concert
– Auction
– Add a ShelterBox display to community events you already run!
If you need support starting your ShelterBox fundraiser or to let us know about your fundraiser, send us a note! 
Mike French, a Rotary member in Calgary, AB hosted a Shine for ShelterBox dinner with his Club to raise funds for ShelterBox Canada.
Mike and his wife Maggie invited over members of their Rotary Club, community and friends to a wine and cheese night and raised over $4,000.
"We had a lot of fun on our wine and cheese Shine evening. It was a great social for many club members, their partners and friends. Social, Rotary awareness and 'doing good in the world' by supporting ShelterBox – What could be better?" – Mike French, The Rotary Club of Calgary West, District 5360 Past District Governor.
Learn more about Shine for ShelterBox here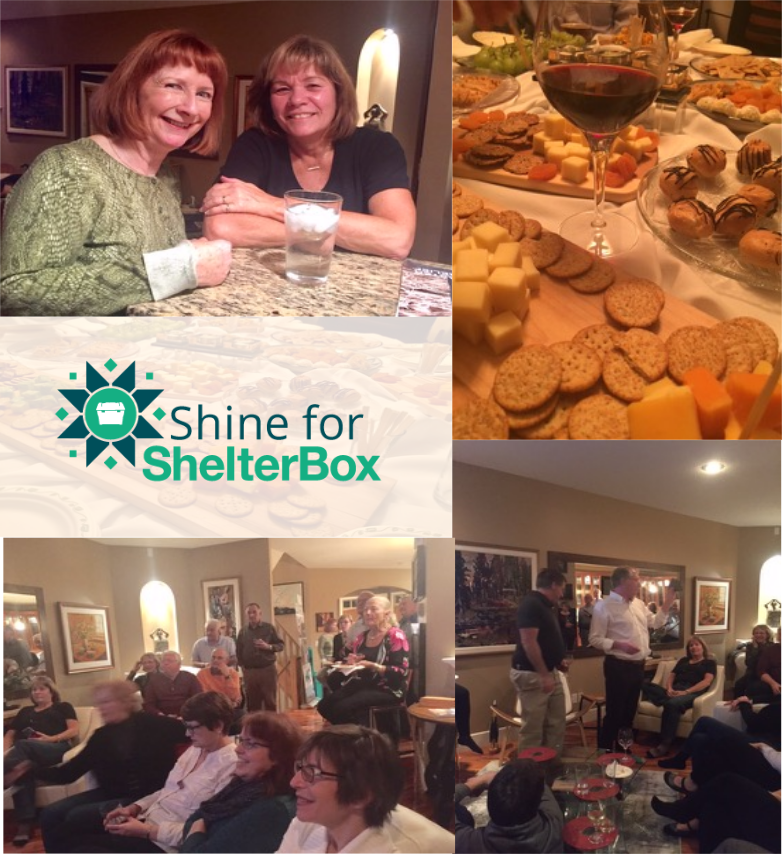 District 5360 Youth Exchange
In 2016 the Youth Exchange Students in District 5360 held a dinner where they raised over $27,000 for ShelterBox Canada in one evening!
The students host a dinner each year where they invite local community members and Rotarians to eat meals from their home countries and learn about ShelterBox and our partnership with Rotary.
Learn more about our Youth Exchange Challenge here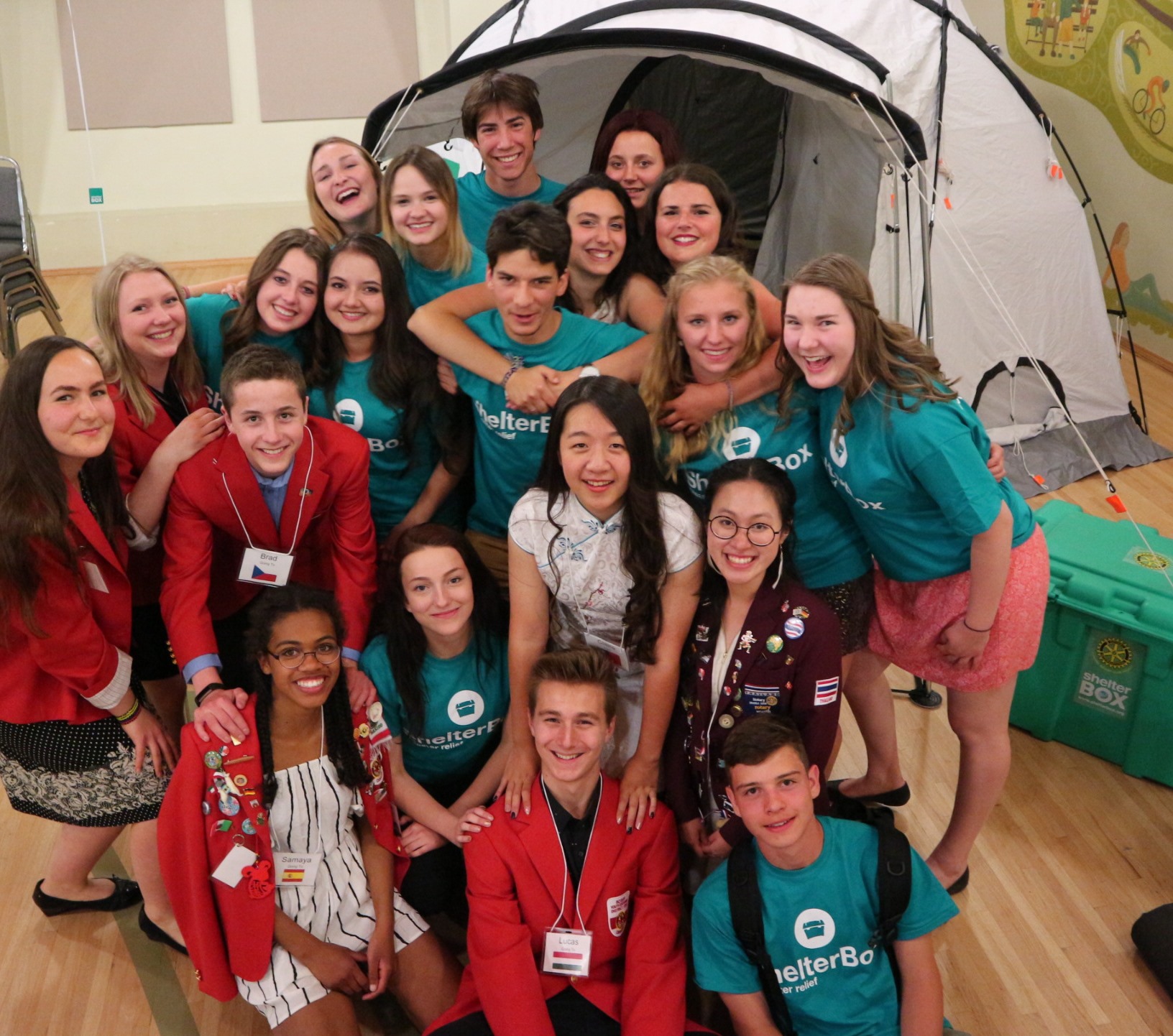 District 7070 Fundraising Page
After Cyclone Idai struck Mozambique, Zimbabwe, Madagascar and Malawi, District 7070 in Ontario wanted to rally support and make a difference. District Governor Mary Lou Harrison set up a District Fundraising page with ShelterBox Canada to bring together the Rotarians, Rotary Clubs and communities in her district who wanted to donate in response to the cyclone.
Through promotion in the monthly newsletter, email and social media the District raised over $9,000 in their first week! Fundraising pages are an easy way for individual Rotarians, Clubs or Districts to raise funds online, set a goal and track their impact.
Sign up for a page for your Rotary Club here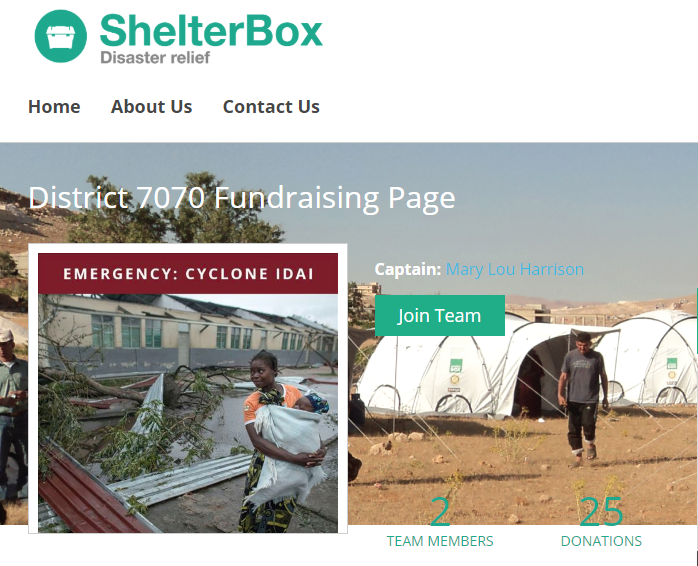 Rotaract Club of Ottawa South's Coffee House
he Rotaract Club of Ottawa South organizes an annual coffee house where members of the Ottawa Community lend their talents through music, poetry, comedy and other creative presentation to raise funds and awareness for ShelterBox Canada! There are always plenty of snacks and an amazing silent auction for attendees. Such a warm environment to fellowship to the community to spread awareness about ShelterBox.  Organizer Saul Hughes shared his reason for supporting ShelterBox by saying, "We were looking for a trusted organisation to support our international fundraising. We were impressed by how they addressed the immediate needs of disaster victims by providing the real, material tools needed for survival. For me personally, I became passionate about ShelterBox when I saw the impact, they were having in Bangladesh in the wake of the Rohingya crisis, which to me was a woefully under-addressed humanitarian disaster." 
In 2019 the Rotaract Club of Ottawa South raised enough for more than 6 shelter kits, helping families rebuild after disaster!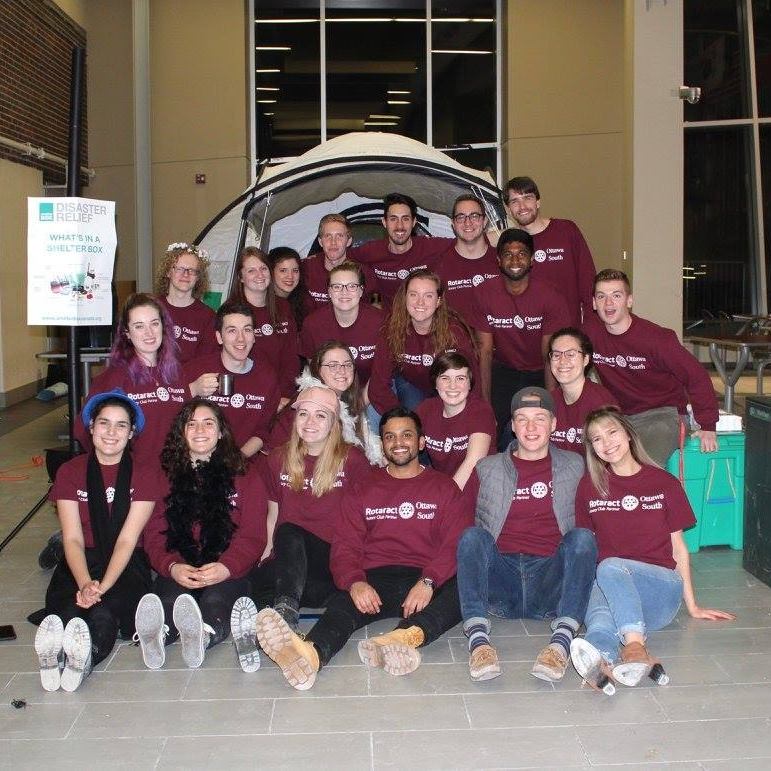 Rotarian Per Dahlstrom from the Rotary Club of Duncan BC and his after David set off on a two-week, 5000-mile round trip  from Vancouver Island and trek to Nova Scotia and back in their Flight Design's Ultralight aircraft.
The aircraft that the Dahlstrom team flew in measures just over 21 feet in length and stands at only 7 feet 8 inches tall. It is so light that when they stop for the night, they need to ensure to tie down the plane to ensure it does not blow away. Curious viewers could even track the flight live via Spot satellite services online!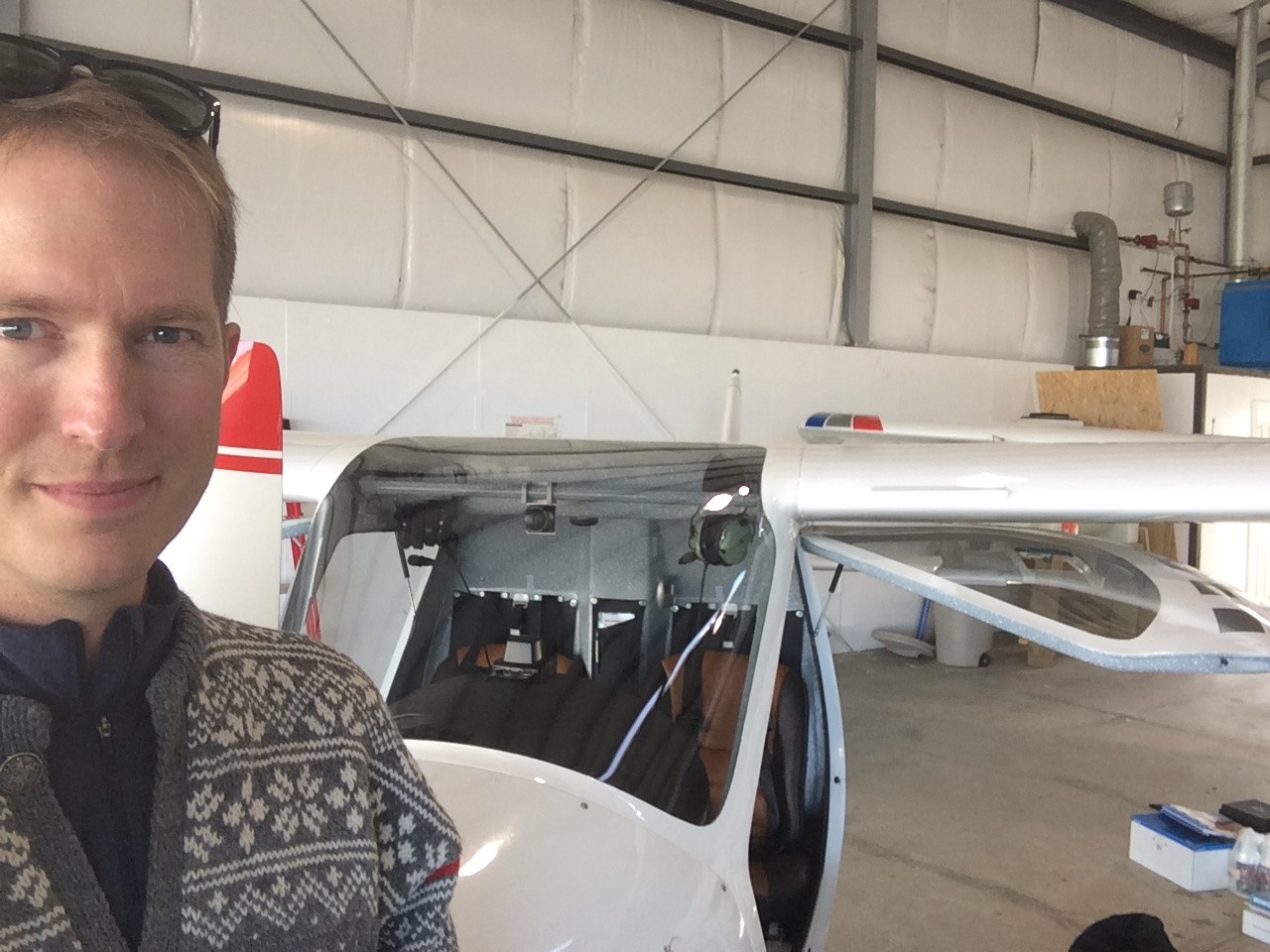 Rotary District Challenge
---
A GLOBAL CHALLENGE FOR DISTRICTS THAT FUNDRAISE FOR SHELTERBOX
Take on the challenge
The challenge is simple, encourage every club in your District to support ShelterBox. No matter how large or small, every donation makes a difference in providing shelter to families worldwide.
Why we need your support
Shelter is more than just a roof – it's a home. It's the foundation for life, for families, for communities, for peace. ShelterBox responds 365 days a year. Rotary Clubs around the world make it possible for us to ensure that no family is left without shelter.
In appreciation
Upon completion of the challenge, your district support will be acknowledged with a listing on the ShelterBox website, our social media, at International Convention and at International Assembly.